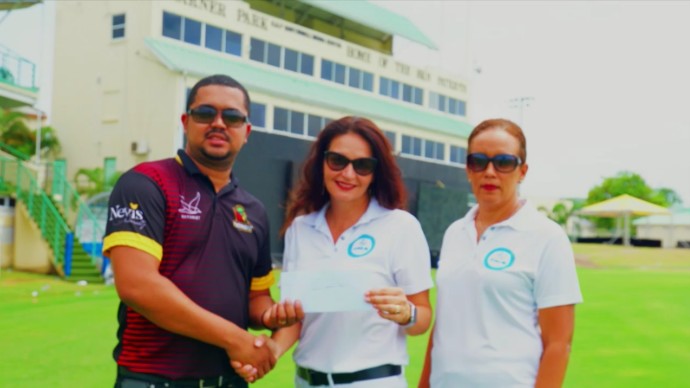 The St. Kitts and Nevis Patriots donated $US1500 to the Pediatric Assistance League (PALS) during a brief presentation on Friday morning at the Warner Park. Chief Operations Officer of the Patriots Richard Berridge, during the handing over, said the Patriots were delighted to make the donation to PALS and want to continue their support. "We're delighted today to hand over a check of US$1500 to the Pediatric Assistance League. We do appreciate and want to support the medical assistance that is given to kids to acquire medical attention overseas. We are happy to continue our support of PALS. During our games we give opportunities for greater brand awareness, which we did by extending the boundary board to PALS, which is one of our ten spots that we get for our home games," Berridge said at the handing over. "Our donation today is the first step in giving additional support to PALS and we do hope that other businesses will come on to support this initiative," he continued.
Giselle Matthews, President of PALS, expressed gratitude to the Patriots for their donation. "We would like to thank Richard and his team and the entire Patriots franchise for their monetary donation today of $US1500. But historically they have always been supportive of PALS since 2017 when they gave us very valuable auction items for our annual fundraiser, which is held in February of every year over the Valentine celebration. Since then we have established a very good relationship," she said. "They reach out to us quite often asking what we need and in this instance we were given a boundary board which is a huge exposure for us internationally to get our name out there among all the fans and the millions who actually look and follow cricket worldwide. So we would like to thank Richard and his team once again and encourage as many corporate partners as we can locally and internationally to join us in our mission to help save as many lives, which need medical assistance abroad," Matthews added.
The Patriots continue their late, but successful run in the 2019 Caribbean Premier League season winning their last three matches and are in poll position to make the playoffs. Two of those matches were at home, the final one on September 17th in an exciting super over against the defending champions Trinbago Knight Riders. They currently rank third in the six points table and have two remaining away games against the St. Lucia Zouks on September 24 and the Barbados Tridents on the 28th.
—END—
Disclaimer: This article was posted in its entirety as received by SKN PULSE. This media house does not correct any spelling or grammatical errors within press releases and or commentaries. The views contained within are not necessarily those of SKN PULSE.