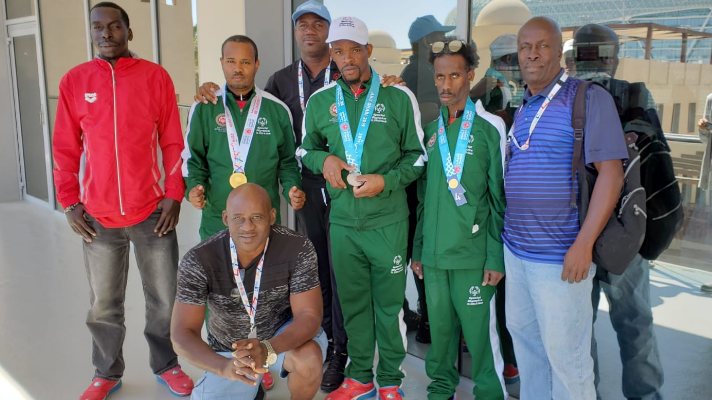 Photo Caption: Minister of Education and Sports, Hon. Shawn Richards with members of Team St. Kitts – Jamor, Robert, Shane and Former Ashton Commissioner, Joseph Liburd and Former Teacher, David Grant
By: Tito Chapman
St. Kitts and Nevis has been performing exceptionally well at the Special Olympics Games currently being held in Abu Dhabi.
Participating in 7 sporting disciplines, the team has copped 11 medals thus far, 6 Gold, 2 Silver and 3 Bronze.
Sprinter Tanique Richards won the first gold medal of the games in the 200M for St Kitts and Nevis. Tanique also took gold honours in the 100m dash.
Also winning gold are:
Jamor Merchant – 5K Cycling
Robert Liddie 10K Cycling
Lemuel Hobson – 800M Freestyle Swimming
Roshawn Daniel – 400M
Shakir Stapleton – Tennis
Cyclist Shane Nisbett and Robert Liddie gained medals in the 10k and Triathlon respectively while sprinter Roshawn Daniel, Bocce player Krislyn Warner and Tyrique Morton all placed third in their respective sporting events.
Minister of Sports, Hon Shawn Richards was among the audience to witness the Olympians success.
Tomorrow is the final Day of competition for Team St. Kitts and Nevis. Tyrique will be competing in the 800M while Shane will be competing in the 40K Road Race.
Krislyn Warner and Lawvander Forbes will be playing Bocce, Doubles FO3.
The 2019 Special Olympics World Summer Games concludes on Thursday March 21.