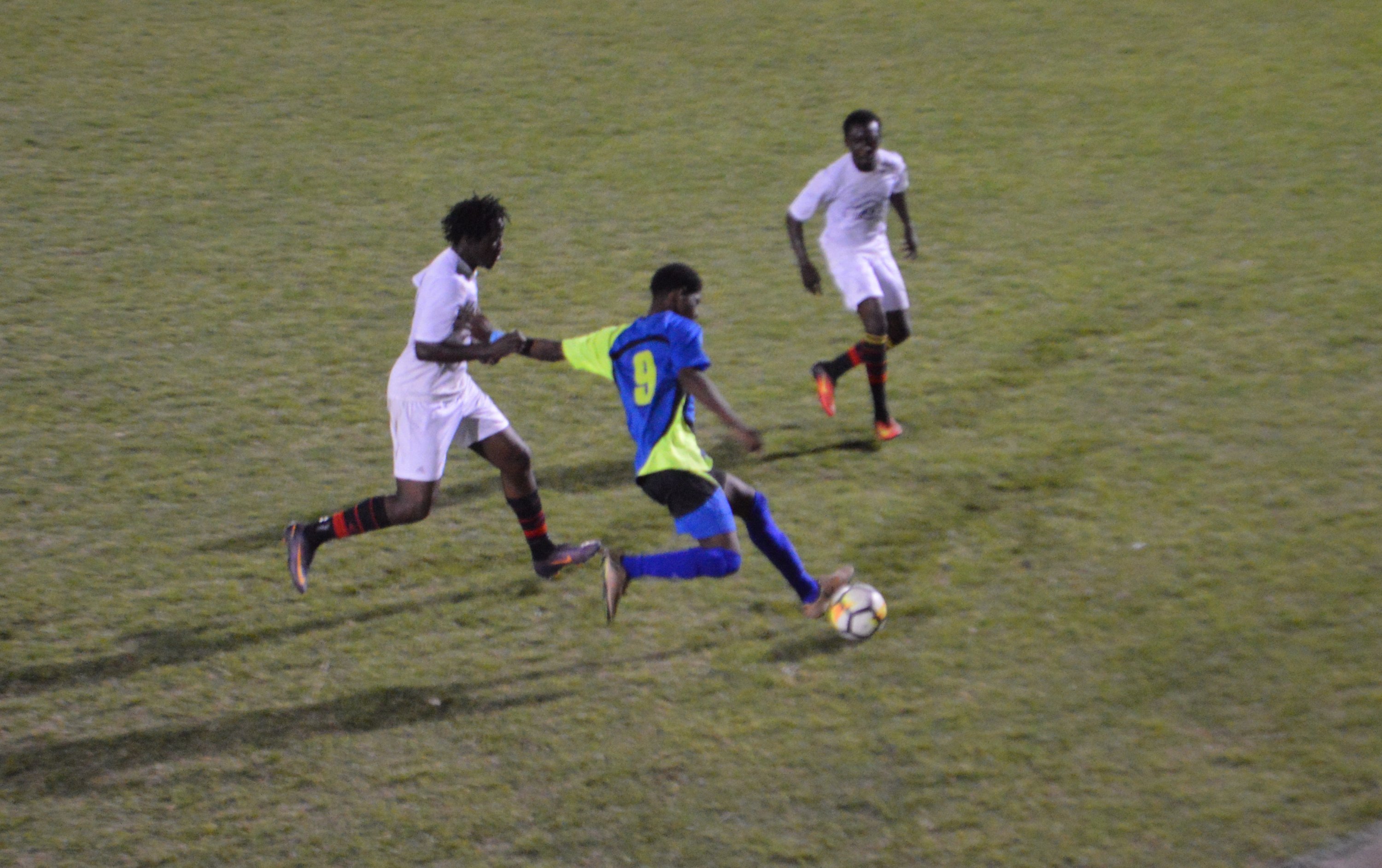 Caption: Action between S. L. Horsfords St. Pauls United and Fast Cash Saddlers United on Sunday night at the Warner Park.
PRESS RELEASE
Its official, Winners Circle Newtown F.C. will not be in the 2017 Sugar Mas Cup despite a valiant effort to come from behind at 3-0 to lose 3-2 to Elco Ltd. St. Peters F.C. on Sunday night at the Warner Park as the National Bank Premier League resumed after a two week break. The win for St. Peters however was not without controversy after Newtown had a goal disallowed for offside, which was given by the referee. St. Peters took the lead in the 21st minute with a Kareem Simmonds goal, after having their defense ripped apart by incisive passing, led to a gaping hole in the defense. Newtown pressed for an equalizer and thought they had one moments before halftime when they earned a penalty. The St. Peters goalkeeper saved the penalty kick, only for a Newtown forward to score from the rebound. That play was ruled offside by referee Treverster Richards, but he changed his ruling after conferring with the linesman. But Referee Richards had a word with fourth official Reginald Gumbs and the decision was overturned to the original offside ruling which infuriated the Newtown bench, coaching staff and fans.
A few minutes after that situation, St. Peters doubled their lead just before the halftime whistle from the boot of Dionis Stephen, almost in similar fashion to the first goal. Newtown came out in the second half knowing they needed a win to advance to the Carnival Cup. But St. Peters continued to play with heart and dominated play, earning an impressive third goal from Damicola Oloyede in the 60th minute.
Newtown, though seemingly left for dead fought their way back into the game like champions with goals from Jamieson McKoy in the 66th min and Aunjunel Esdaille in the 73rd min. But the fight was not enough to overtake St. Peters and prevented them from the top four and consequently from advancing to the Carnival Cup. Tensions rose high during the match between McCoy of Newtown and the St. Peters goalkeeper. That tension between the players of both teams boiled over after the match, but was quelled with the help of officials and coaches from both teams.
Coach Anthony Isaac was in the stands for the second half, miffed at the decision in the first half which would have given his team another goal. "The fourth official should not be able to make a call from the sidelines," protested Isaac. Regarding his team's performance in the first round, the coach said they had "some ups and downs" but intended to play better in the second round.
Meanwhile, Coach Orville Thompson of St. Peters said his team played with heart Sunday night, much unlike how they started the season. "That performance came from hard practice and dedication and commitment that we committed to these past weeks," he said. Regarding the disallowed goal, Coach Thompson said it was the correct decision. "First of all it should not have been a penalty but the referee gave a penalty and we respect that. But the (Newtown player) was really offside," he said.
In the night's earlier match, S.L. Horsfords St. Pauls United edged Fast Cash Saddlers United 1-0 courtesy of a 21st minute strike from Keithroy Freeman. Coach Austin Huggins of St. Pauls said the focus coming into the match was just to play calm and not to exert too much energy after the two week break. On the other hand, despite the loss, Coach Kenroy Knibb of Saddlers tipped his hat off to his players.
On Saturday night, defending Premier League champions FLOW 4G CAYON missed out on the Carnival Cup after suffering a 1-0 loss to league leaders Rams Village Superstars. Kimaree Somersall scored in the 78th minute for the winners.
Meanwhile, SOL Island Auto Supplies Conaree F.C. made sure they booked their spot in the Carnival Cup with a 5-1 win over St. Thomas/Trinity United.
SCORING FOR CONAREE
Malik Roberts 22nd min
Kadeem Lewis (pk) 26th min
Tijani Fahie 45th min
Irandy Byron 53rd min
Javern Matthew 62nd min
SCORING FOR STRIKERS
Denroy Pemberton 82nd min
Saturday night's other result was:
H.E.GARDEN HOTSPURS 3 – 1 T.G.E.DIEPPE BAY EAGLES
SCORING FOR SPURS
Giovannie Lake 31st min
Tiran Hanley 53rd min
Arturo Diaz 73rd min
SCORING FOR DIEPPE BAY
Sean Liburd (pk) 40th min
So with these results, the following four teams are in the 2017 Carnival Cup for this weekend:
1. RAMS VILLAGE SUPERSTARS FC
2. H.E. GARDEN HOTSPURS
3. S.L. HORSFORDS ST.PAULS FC
4. SOL I.A.S. CONAREE FC
National Bank Premier League Standings
These weekend's games mark the end of the first round. The point standings see:
1. Rams Village Superstars 20pts (Goal difference of +10)
2. H.E. Garden Hotspurs 20pts (Goal difference of +18)
3. S. L. Horsfords St Pauls 19pts
4. SOL IAS Conaree F.C. 14pts (Goal difference of +11)
5. Flow 4G Cayon Rockets 14pts (Goal difference of +6)
6. Winners Circle Newtown F.C. 12pts
7. Fast Cash Saddlers United 9pts
8. Elco Ltd. St. Peters 8pts
9. T.G.E Dieppe Bay Eagles 6pts
10. St. Thomas/Trinity F.C. 3pts
—END—
*This article was posted in its entirety as received by SKN PULSE. This media house does not correct any spelling or grammatical errors within press releases and (or) commentaries. The views contained within are not necessarily those of SKN PULSE.