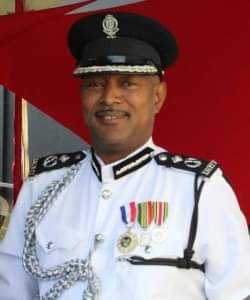 Basseterre, St Kitts, August 31, 2019 – Mr Ian Queeley, yesterday 31st August 2019, officially ended his tour of duty as Commissioner of the Royal St Christopher and Nevis Police Force.
Following is his message to the rank and file:
PARTING WORDS
Greetings All !!
"The size of your success is measured by the strength of your desire, the size of your dreams, and how to handle disappointment along the way…Do not become angry when we fail to win an argument or when we feel offended or neglected. Selfish anger NEVER helps anybody. Instead, we should focus on the powerful, magical and beautiful parts of life and the universe will keep giving them to you."

Today, 31st August 2019, is officially the last day of my sojourn within the Royal St Christopher and Nevis Police Force.
This means that effectively, I would have served for 35 years, 2 weeks and 1 day…literally giving all of my adult life to the service of this Federation.

I would have preferred to deliver these parting words in person but, for reasons best known to some, this never materialized…so, I thought that this might be the best way to ensure I communicate with as wide as possible a cross section of the organization, my official exit from the Police Force. Therefore, allow me through this medium to share with you some thoughts and parting words.

Firstly, I wish to inform the general membership of the organization, that after much consideration and deep introspection, I have decided that the time to transition to the next stage of my life has come. Hence, I made what was easily the most difficult decision of my policing career. This was done in order to take up a Regional appointment with the OECS Commission, as Resident Ambassador and Head of Mission for the Embassies of the Organization of Eastern Caribbean States, in Rabat, the Kingdom of Morocco, North Africa.

I wish therefore, to place on record my profound thanks and sincere appreciation to the ranks and file of the RSCNPF for their support or lack thereof during my loyal and dedicated tenure of Public Service in the area of National Security and more specifically, Policing and Law Enforcement.
It was not always a walk in the park, and I can say without fear of contradiction, that I have seen the best and worst of times during my sojourn. But, with God's grace, I persevered and overcame the obstacles and adversities. For that I wish to say that your words of encouragement and criticisms (constructive and destructive) have in large measure prepared me for this transition to the next stage of my life. The Police Force has been truly good to me and I have nothing but praise for all who made this a reality. This includes but is not limited to all ranks, past and present Senior Leadership, Civilian Staff and successive governments for the investments made in my career development. I leave with a smile on my face and a contented heart that is beaming with pride.

In today's society and with the advent of technology and globalization, policing our Federation will continue to be a challenge. However, I urge you not to lose focus of your Mission Statement in making the Federation a safe place to work, live, vacation and do business. To do this, you will have to continue to work hard, stay focused, resilient and remain relevant. Learn to laugh at your problems – because everyone else does.

Additionally, to borrow a line from a famous philosopher, "Life is like a Broadway Play"…you come on the stage, execute your assigned role and then exit the stage. And, so I urge you to perform your role well so that it will have a positive and lasting impact on others when you would have exited the stage.

You must also prepare yourself for your exit and transition to the next stage of your life. Therefore, you should make good use of every capacity building opportunity that is afforded to enhance your personal and professional development. I beseech you to ensure that you too place your integrity high on your priority list and avoid activities that will bring the organization into disrepute. Remember there is something wrong with your character if opportunity controls your loyalty. Your deeds will speak for your, whether they are good or bad. Therefore, Support your High Command and Leadership Team, but most of all support each other because that's the only way to have an effective and efficient organization. And, despite the odds, I remain of the considered view that the RSKNPF still has SOME of the finest Police Officers that can stand shoulder to shoulder with anyone in any Force regionally and internationally. Don't let the gains that you have made in recent months slip away from you.

It is a new day and an opportunity to build on that foundation. An opportunity to soar high above the adversities and negativity, and opportunity to take a new look and review your Strategic Outlook. The higher you fly gives you a greater understanding and opportunity to see the bigger picture and to focus on the parts that will enhance the quality of life and productivity of the whole…each piece is important and significant to moving the whole system forward. So, continue to strive to make today a little better than yesterday. In doing so, let your positive actions be a catalyst and a magnet to draw others and help you and us all to work in our varying environments to make a difference to the people around us and society as a whole. Your little will go a long way in making a difference in someone's life.

I will surely miss you guys but as the saying goes…"man has to do what he has to do". So, I bid you farewell and Bon Voyage. I may be gone in person, but not in spirit. I will always be a Police at heart and if I have to relive my life, I will be a police officer all over again. I am still only a phone call or WhatsApp or email away, so please reach out if I can be of assistance to any one of you.

Finally, keep a tight security on the gate of your mind, so that only positive thoughts are allowed to enter and only words of wisdom are allowed to exit.

May God continue to richly bless and prosper the Royal St. Christopher and Nevis Police Force.
Yours in Service
Ian M. Queeley, JP, DSA, MBA
Commissioner of Police
RSCNPF