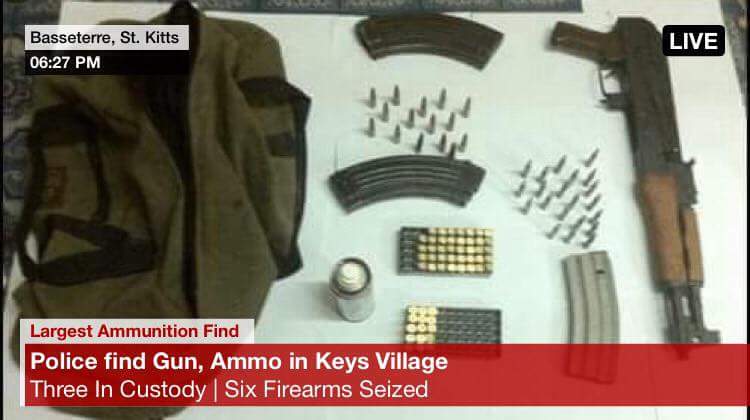 By: Staff Writer
An anti-crime exercise has resulted in three (3) persons been placed in custody with a fourth person being sought following the largest ammunition and second largest firearm find in the Federation.
A Police press statement said,
Police conducted an operation in Keys Village Wednesday (September 12) morning. While approaching a premises in the area they saw four (4) males in a yard. The men began running when they saw the Police approaching. The Police pursued. While chasing the persons, one (1) individual threw what appeared to be a bag over a wall. Upon inspection, the bag contained what appeared to be pistols and a large quantity of ammunition.
A second bag was seized during the chase of another individual. The police statement said:
upon inspection, the bag contained what also appeared to be pistols, a quantity of marijuana and a large amount of assorted ammunition.
According to the statement, a total of six (6) firearms – two (2) .45 pistols, two (2) .40 pistols, one (1) 9mm pistol and one (1) .38 revolver – and in excess of two hundred and fifty (250) rounds of assorted ammunition were found.
Police investigations are ongoing.