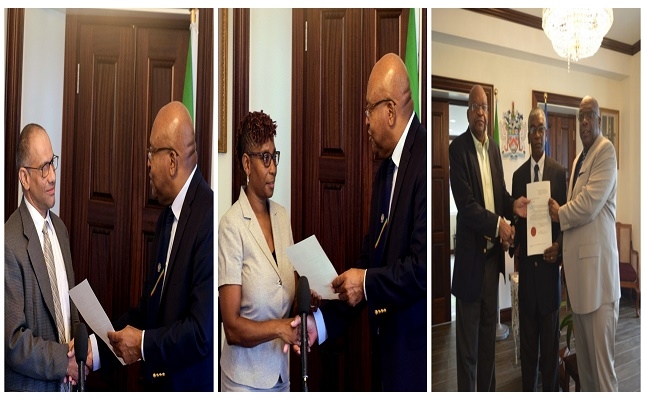 By: OPM, Press Release
BASSETERRE, St. Kitts, September 12, 2018 (Press Unit in the Office of the Prime Minister) – The Prime Minister of St. Kitts and Nevis, Dr. the Honourable Timothy Harris, said the Team Unity administration has done its part by advancing the Integrity in Public Life legislation and is now urging the public to exercise patience and give the recently established Integrity Commission time to properly perform its duties.
Prime Minister Harris said, "A Commission is in place. The Commission has persons who are eminently qualified for their role in my view. Let the commissioners do their work. There are certain things this government will not do because they are for the Commission to do and to recommend to the Government that certain things must be done. The Commission must be given space and time to get its operations together and to develop its own mode of operating, communicate that to the public, get the support of the public for its particular approach and then we move on."
The prime minister, while appearing on WINNFM's "Straight Talk" radio programme on Monday (September 10), said the Team Unity administration has done more than any previous administration to advance the good governance agenda in St. Kitts and Nevis.
The Dr. the Honourable Timothy Harris-led Government successfully passed the Freedom of Information Bill 2018 into law on Thursday, May 3, 2018. The Freedom of Information Act seeks to promote maximum disclosure of information in the public interest, to guarantee the right of everyone to access to information, to provide for effective mechanisms to secure that right and for related matters.
With regards, to the Integrity in Public Life legislation, the honourable prime minister stated, "We operationalized it; we set a date for the legislation to come into being; we prepared our public servants; we had a workshop, led by the Attorney General, at the [St. Kitts] Marriott so that all civil servants and senior functionaries of the government in particular could have an opportunity to understand the importance of the legislation and how it will impact upon their functioning."
The Integrity in Public Life (IPL) Act came into force in the Federation of St. Kitts and Nevis on Wednesday, July 11, 2018, after which the Integrity Commission was established.
The Commission comprises Chairman – Mr. Damian Kelsick and members Mr. Dennis Knight and Mrs. Carol Boddie.
"We are satisfied that we have, in keeping with the expectations of the people, advanced the good governance agenda for St. Kitts and Nevis," said Prime Minister Harris.