Tahir Hanley Continues To Impress As St. Kitts and Nevis Vs Antigua Ends In A 2-2 Draw 
Photo Caption: SKN U-20 Top Goal Scorer In The Final Round Thus Far, Tahir Hanley
Basseterre, St. Kitts – Day 3 of the Caribbean Football Union's Under 20 final round has climaxed. With St. Kitts and Nevis needing a win against Antigua after a loss in there opener against Bermuda, the stakes were high and the Sugar Boyz came out energized and excuted early.
In the ninth minute, Delano Hodge netted the first goal for the Sugar Boyz as SKN went ahead 1-0. However, in the 23rd minute the scores were levelled as Javorn Stevens of Antigua and Barbuda placed the ball in the back of the net leaving the scores level right up to the half-time interval.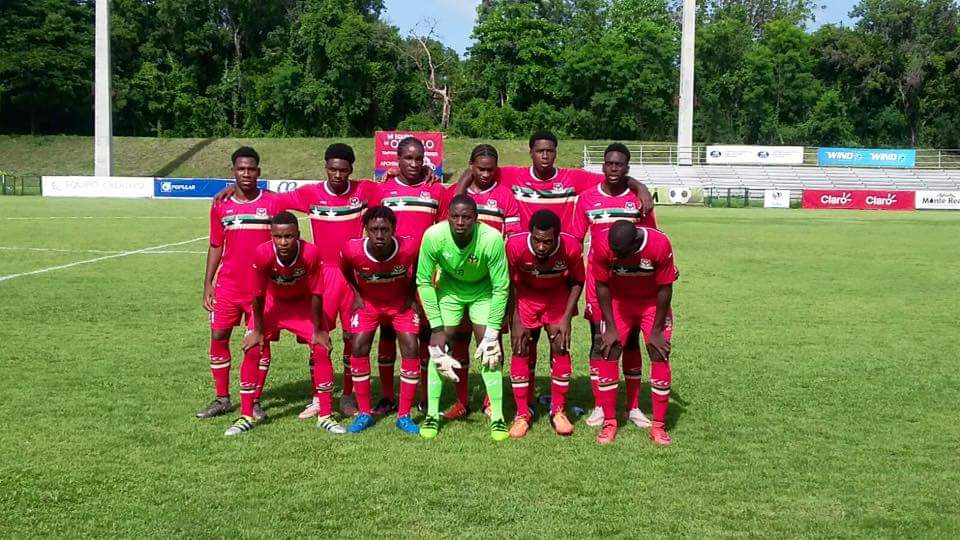 Photo Caption: The St. Kitts and Nevis U-20 Men's National Team
With team St. Kitts and Nevis going back to the drawing board, the man to watch in the second half was Tahir Hanley. Three minutes into the second half, he netted St. Kitts and Nevis' second goal and his second goal of the tournament thus far. Antigua however, didn't lose faith even though time was running out on them. Luther Wildin was their saviour as he penetrated the Sugar Boyz defense in the 86th minute and dashed the winning hopes that team St. Kitts and Nevis had. When the final whistle was blown, the game ended in a 2 all draw.
Team SKN faces a must win situation as both Antigua and Bermuda has a win and a draw to there name and leads Group A. While St. Kitts and Nevis and Curaçao are on the outside looking in. St. Kitts and Nevis is scheduled to take on hosts Curaçao tomorrow at 8:30 (pm).
Antigua and Barbuda 2- 2 St. Kitts and Nevis
Delano Hodge 9', Tahir Hanley 48'. (SKN)
Javorn Stevens 23', Luther Wildin 86' (ANT)