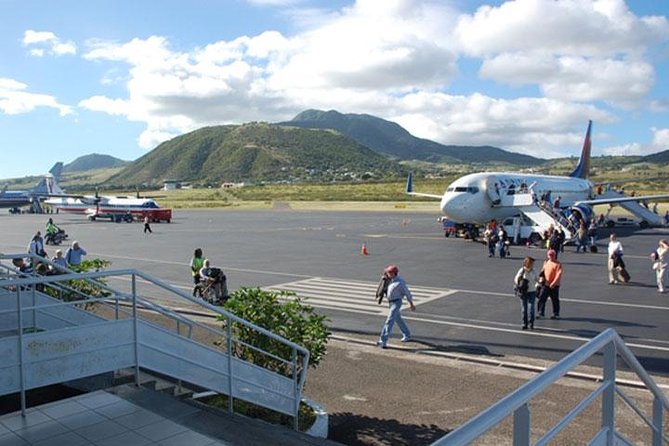 Competitive Air Fares, More Flights in Peak 2020 and Special
Winter Offer Combine to Drive Bookings
BASSETERRE (14TH October, 2019): As of August 2019, year-to-date air passenger arrivals from North America have increased by 7.9% as compared to the same period the previous year. As St. Kitts ramps up to peak season, North American airlines are introducing additional flight options for travelers to reach the island, the "Visit St. Kitts" special offer provides travellers with additional incentive to book a hotel stay in the destination and very importantly, airfares from key North American gateways in peak travel periods are among the most affordable in the region.

"I could not be more pleased to see lower airfares and increased airlift to our shores from our North American airline partners that complements the offer from our participating hotels to help us continue our momentum of growth in the tourism sector," said Minister Grant. "These competitively priced seats, more flights, and free nights on hotel stays including discounts from additional tourism stakeholders all serve to increase St. Kitts' appeal to travelers from our number one source market."

Sample Airfares from North America

Looking to Thanksgiving and Christmas when all flights return from hiatus and those rotations from Miami and JFK that have been impacted by the grounding of the 737 Max resume service, St. Kitts has among the lowest fares in the region. The island has the least expensive fares as compared to other destinations in its competitive set over Thanksgiving and are highly competitive over Christmas. For the first two weeks of December, the island goes back to one daily flight over Miami due to the 737 max grounding. During this time, some destinations will have lower fares because their larger number of hotel rooms results in more air capacity, which drives down the price of seats. These destinations have 3,000-7,000 rooms compared to less than 1,800 rooms in St. Kitts & Nevis.

Therefore, travellers from North America are encouraged to book early as airfares tend to rise the closer they are booked to selected travel dates. Providing additional incentive to book, the "Visit St. Kitts" limited-time offer features free hotel nights at participating hotels throughout the destination as well as discounts from participating tourism stakeholders from restaurants to retail shops and activity providers for travel this winter. The offer is being supported by advertising in select top outlets matching St. Kitts' geographic, demographic and behavioural targets. These include Departures, Travel + Leisure and Food & Wine, iHeart Radio, the Atlanta Journal-Constitution and Caribbean Journal as well as Google, Facebook, TripAdvisor, Expedia and Adara.

While the table above reflects fares from the source markets to St. Kitts, round trip fares originating in St. Kitts to Miami can be found in December for $625 or less.

St. Kitts' airlift strategy consists of continuing to nurture relationships with the airlines to systematically build out air bridges to/from identified target gateways to grow service in a sustainable manner that will support new and existing hotel developments as well as all local tourism stakeholders while making the island increasingly easy and affordable for air travelers to reach. The participation of local tourism stakeholders from hotels and retaurants to retail shops and activity providers in destination-wide seasonal offers such as "Visit St. Kitts" helps ensure that St. Kitts remains competitively priced overall as compared to other islands in the region. Targeted advertising for the offer results in increased brand awareness and provides added incentive with a clear call-to-action for consumers to book travel to St. Kitts.

American Airlines, the carrier with the most flights to/from St. Kitts' Robert L. Bradshaw International Airport (SKB), has added non-stop flights on Wednesdays from JFK to SKB that will operate year-round starting on December 18, 2019. United Air Lines will continue its Wednesday flight in addition to the Saturday rotation out of Newark. In addition, Air Canada has added mid-week service to St. Kitts for the first time in our history, with Tuesday flights operating February 11 through April 14, 2020.

For more information about St. Kitts, visit www.stkittstourism.kn.

Disclaimer: This article was posted in its entirety as received by SKN PULSE. This media house does not correct any spelling or grammatical errors within press releases and or commentaries. The views contained within are not necessarily those of SKN PULSE.