Hat-trick hero Keithroy Freeman led S L Horsfords St. Paul's to a 4-0 victory over Fast Cash Saddlers United on Saturday in the first 2023 SKNFA Premier League fixture to play on the island of Nevis. The match was the first of a doubleheader at the Nevis Athletics Stadium in Long Point.
Scoring for St.Pauls
Keithroy Freeman hat trick – 45th + 1, 46th & 79th min
Keshorne Warde 90th + 3 min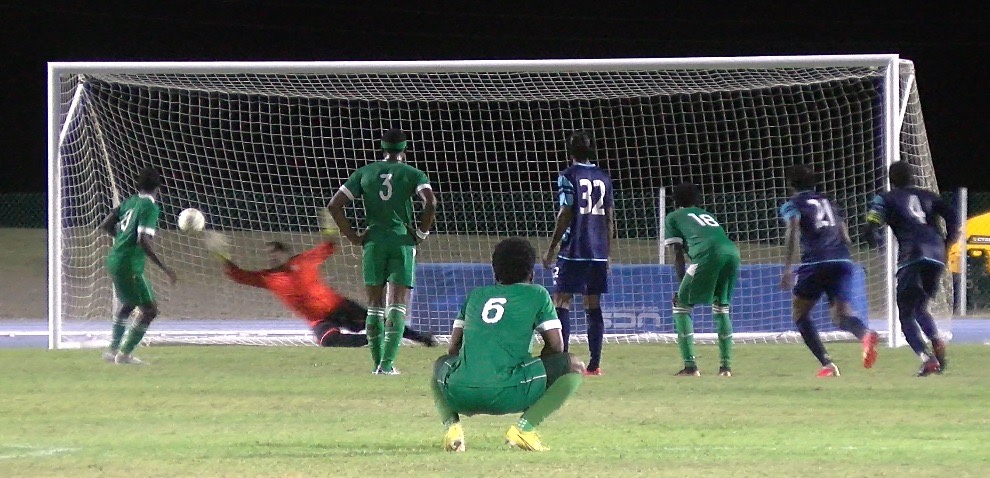 Taju Clarke, a player with St. Paul's, said the team prevailed despite not playing their very best. "The performance you saw today was an overall good performance because we scored four goals and kept a clean sheet. There were instances when the game dropped off but our team, even though we fall off, we can regroup and score as many goals as possible," he said. He noted that the approach going forward would be to take it one game at a time.
He also had high marks for the Nevis Athletics Stadium as a venue for Premier League matches. "The field is much better than most fields…despite it being open…it's still a good venue," he said.
Meanwhile, the Coach of Saddlers United Samuel Phipps suggested the performance of his team was below par. "It was a really bad off day for us today. We lost 4-0. Nevertheless, I have to thank the guys for trying their best but again we gave up a soft goal just before halftime, and as soon as the second half began we gave up another soft goal, and that has been the trend since the first round. It was a tough loss," Phipps said. Meanwhile, Bath United eked out a 1-1 draw with league Leaders Flow 4G Cayon Rockets in front of a Nevisian crowd for the first time this season.

Scoring for Cayon
Malik Hendrickson 74th min
Scoring for Bath Utd
Jalden Myers (pk) 82nd min
Coach Al Edwards of Cayon said the match was a tale of two halves. "In the first half, we got frustrated and went away from the game plan. At half time we were able to look at some of the points that we needed to do and controlled much of the second half. The second half really belonged to us but we weren't able to create much of the opportunities that we wanted," he said, noting that it's back to the drawing board for their next match.
Coach Alex Claxton of Bath said it was important that the team picked up results from this match in front of the Nevisian fans. "I think that it was very, very important that we pick up points from this game, knowing that it's our first game at home," he said. "This is something we were looking forward to and we are happy with the turnout and we wanted to make sure we didn't disappoint our fans and our supporters," he said. The matches on Friday between Security Forces FC and Hobson Enterprises Garden Hotspurs and SOL IAS Conaree FC and Newtown United both ended in 0-0 draws.
-END-