Elvis Star Browne Women's league commenced on Saturday with wins for Queen City and NAGICO Cayon Rockets. Queen City crushed Garden Hotspurs 7-1 on Sunday at the SKNFA Technical Center in St. Peters.
Scoring for Queen City
Kerisha Powell scored 4 goals – 5th, 19th, 33rd min & 66th min
Azyka Morton 27th min
Kymoyan Grant 39th min
Devel Griese 63rd min
Scoring for Garden Hotspurs
Lakisha Davis (pk) 78th min
In the second match on Sunday, it took a last-minute stoppage time strike from Niclaire Sharry of the NAGICO Cayon Rockets to give the team a 3-2 win over Rams Village Lady Superstars.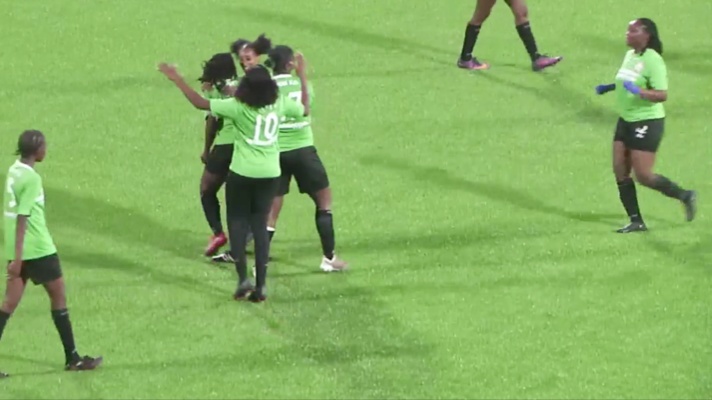 Scoring for Village Ladies
Olujede Bridgewater scored both goals 37th & 53rd min
Scoring for Cayon Ladies
Shekola Wilson struck twice 16th & 42nd min
Niclaire Sharry 90th +8 min
The league actually started on Saturday at the SKNFA technical center with the following result:
MFCR UNITED OLD ROAD LADY JETS 2 – 2 NEWTOWN UNITED
(half time score 1 – 1 )
Scoring for Old Road Lady Jets
Leranja Wilkinson 31st min
Shinella McCalla 90th + 8 min
Scoring for Newtown United
Katelyn Forbes 15th min
Zonia Marshall 77th min
The Elvis Star Browne Women's League continues this Thursday with Bath United playing Queen City at the Nevis Athletics Stadium at 7 pm. The League continues on Saturday at 6 pm with Garden Hotspurs playing MFC Old Road United Lady Jets at the SKNFA Technical Center. Then, also on Sunday at 6 pm, Newtown United will play Rams Village Lady Superstars.
-END-