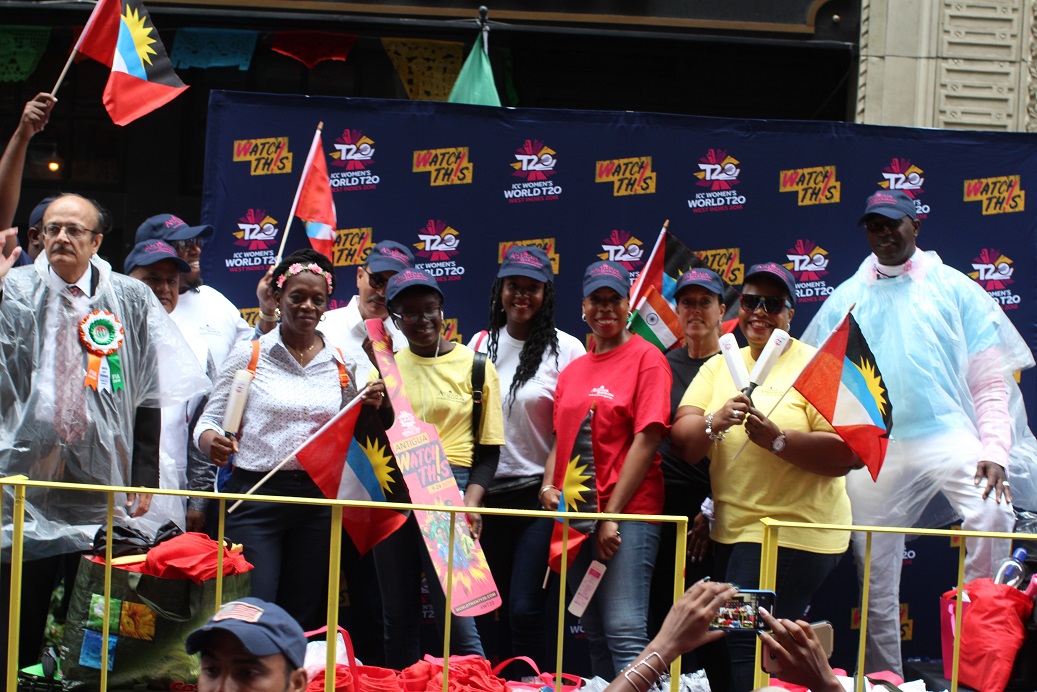 Antigua Barbuda group photo with FIA and ICC officials
By: Staff Writer Antigua and Barbuda, Cricket Legend Sir Vivian Richards, and the ICC (International Cricket Council) teamed up to promote the destination and the landmark T20 World Cup that will take place in Antigua later this year for the 38th India Day Parade that took place on Sunday August 19, in New York City.
The Parade which sponsored by the Federation of Indian Associations (FIA) was organized to commemorate the 72nd Independence Day of India. According to E-TurboNews, the parade is the largest celebration of India's independence outside of India itself, with over 180,000 visitors each year.
E-Turbo News reported that, "the FIA represents more than 500,000 Asian-Indians in the tri-state area of New York, New Jersey and Connecticut." Antigua and Barbuda's promo drive is as a result them hosting the ICC T20 Women's World Cup in November. The semi-finals and the grand finals of the said tournament will be held from November 22 -24, 2018 at Sir Vivian Richards Stadium. The ICC T20 is of particular significance this year as it is the first standalone Women's World Cup.
According to E-TurboNews, the Antigua and Barbuda float promoted the best that the destination had to offer as well as this exciting cricketing event. Cricket Legend, Sir Vivian Richards along with Minister of Tourism and Investment, Hon. Charles 'Max' Fernandez, greeted the crowds.
E- TurboNews stated, "the Fans swarmed the float along the route cheering for Sir Viv and the opportunity to greet him." They further highlighted that, "extra star power on the float was provided by Latisha Greene, former Miss Antigua and Barbuda and former Miss World contestant, as well as Antiguan DJ, Kareem Carr of 'Trauma Unit,' with support from the Antigua and Barbuda Tourism Authority, and members of the ICC.