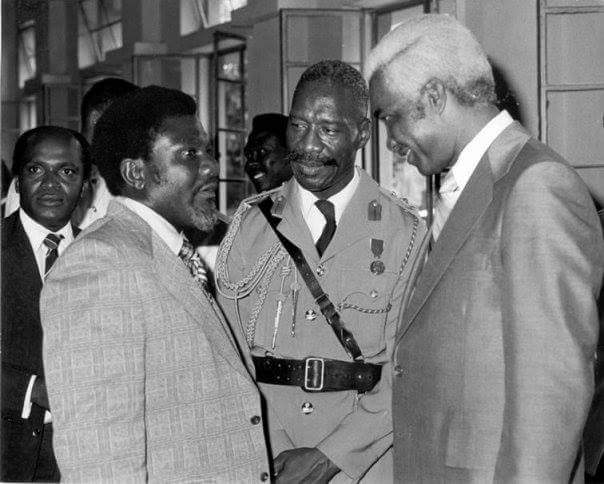 Photo (left to right) – Albert Redhead, Elridge St. Clair "Rid-o-Pest" Tobias, Rt. Excellent Sir Robert L. Bradshaw and Hon. Cyril E. King.

838/2018
By: E. Williams
Basseterre, St. Kitts, September 24, 2018 – Several persons in St. Kitts and Nevis and overseas have asked privately who are the three other persons in a photo which now and then graces the pages of their FaceBook friends.
It is a photo with the Federation's First National Hero and Father of the Nation, The Right Excellent Sir Robert Llewellyn Bradshaw. On the right is then Governor of the United States Virgin Islands, the Hon. Cyril E. King. On the immediate left is Mr. St. Clair "Rid-o-Pest" Tobias, a Kittitian who lived at the time in St. Thomas. Both King and Tobias were very, very close friends of Bradshaw. On the extreme left in the photo is Mr. Albert Redhead.
Cyril E. King, the second elected Governor of the United States Virgin Islands, died on the night of January 2, 1978 after a long battle with cancer. He was 56 years old.
When Governor King died, Mr. Bradshaw had already made arrangements to travel to London for surgery. Mr. Bradshaw as I recall travelled to St. Thomas to pay his respect and extend in person his sympathy to Mrs. King and family before going to the United Kingdom as he was not going to be able to attend King's funeral.
According to information, Mr. King, a former Washington aide to Senator Hubert H. Humphrey, Democrat of, Minnesota, had an inoperable tumour of the stomach. He underwent two months of cancer treatment at Memorial Sloan‐Kettering Hospital in New York City.
Mr. King returned to the Virgin Islands Dec. 9, 1977 and never went to his office at Government House. Instead, he went directly from Harry S. Truman Airport in St. Thomas to his mountainside home.
The Governor entered Knud‐Hansen Memorial Hospital on December 22, turning over his office temporarily to his Lt. Governor Mr. Juan Luis. At that time, Mr. King was said to be suffering "complications of fever and subsequent dehydration."

The reports state Governor King was also an avid regionalist, and developed close relations with his counterpart Premier Robert Bradshaw of St. Kitts-Nevis-Anguilla during the first two years of his term.
He always recognized the progressive role of nationals of the Eastern Caribbean in the economic development of the US Virgin Islands.
Governor King became the first governor of the territory to make an official visit to the region, travelling to St. Kitts on several occasions. He also welcomed Premier Bradshaw on official visits to the territory.
Governor King was the first to participate in a meeting of CARICOM when he attended the Second Conference of the Heads of Government held in Basseterre, St. Kitts in December of 1975. Serious issues on the status of CARICOM nationals residing in the US Virgin Islands were addressed at that meeting.
It is of interest to note that Mr. King died on January 2, 1978 at the age of 56 and Bradshaw on May 23, 1978 at the age of 61.
Elridge St. Clair Tobias was born in St. Kitts on January 1, 1933. He lived in St. Thomas, Virgin Islands for decades. Newspaper reports said he sometimes goes by various nicknames including Elridge S. Tobias and St. C. Tobias. He was a businessman owning the company "Rid o Pest" in St. Thomas and was an unofficial government adviser and at one time indicated he was seriously thinking about becoming the United States Virgin Islands governor.
Later he was appointed St. Kitts and Nevis' Honorary Consul in the United States Virgin Islands. Mr. Tobias has retired and resides in St. Kitts.
Albert Redhead, whom I knew very well, as he lived a few house from our family home, is Grenadian by birth and served in St. Kitts and Nevis in 1974 where he began working as a Crown Counsel.
In 1975, Mr. Redhead became Registrar of the High Court in St. Kitts and Nevis and also served as a magistrate. In 1980, he became the Director of Public Prosecutions. In 1985, he was appointed to be a High Court Judge of the Eastern Caribbean Supreme Court and has served also as an Appeals Court Judge. He is now retired.