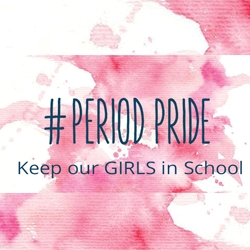 March 8th,2019 – On Women's International Day, we are proud to launch the "#PeriodPride- Keep our GIRLS in School"Global Campaign.

Period Pride wants to remedy the negative social impact deriving from period poverty among financially disadvantaged communities. The campaign mission is to strengthen the lives of girls, ensuring that they will not be missing out on their education nor on their dignity, due to their Periods.
Girls' education is challenged in the developing world due to many factors. Culture and tradition, family income and parental education levels all play a role in girls' educational participation and performance.
This global initiative aims to engage corporate, philanthropic, governmental and individual support for girls across the world to have free access to menstrual material for stress free period.
This project will guide young girls through the physical and emotional aspects of their transition to adulthood by providing them with menstrual sanitary material and information to manage their menstruation.
The founders of the #PeriodPride-Keep our GIRL in School Campaign are Thelma Musanhu, from Zimbabwe and Trine Angeline Sig, from Denmark. The two are from different backgrounds and geographical locations, yet they are both driven by the passion to see an end to Period Poverty. This is what they say:
Thelma Musanhu:"I thrive on introducing the world to sustainable technology and products that will help to alleviate poverty in many aspects of life. Often, without campaigns and a reach out to stakeholders, the technology and products would remain hidden. The campaigns serve the purpose to help communities in need.
Back in 2009, when I was a school teacher in a rural farm community, the signs of period poverty were there right in front of me. However, I failed to identify the problem. Now, I recall how a handful of girls would miss school sometimes 3 or even 4 days every month. We scolded them and we never bothered making them feel that they could confide in us about the real reason for missing school. With the growing interest in Period Poverty topics, I understand why they sometimes missed school and how they must have felt. I know this one truth: We are the solution to Period Poverty and we have always been the solution."

Trine Angeline Sig: "When I started developing solutions for menstrual health, I found that in many places around the world, myths and taboos surrounding menstruation have unfortunate consequences, sometimes making girls and women stay home from school or work during their period. One of the causes is lack of access to sanitary pads, educational information and/or proper sanitation. The reusable sanitary pad addresses part of this problem and Safepad™ offers a sterile and durable solution. It is an innovative product that prevents infections, while it will also help to prevent the social isolation of girls and women in third-world countries."
We believe that we can end Period Poverty if everybody joins the fight!
The expected outcomes from the campaign are:
– Ensure that girls are educated about menstrual health, providing useful information.
– Break the silence and taboos surrounding menstruation.
– Make sure that girls will not miss school during their periods by providing them with SafepadTM – a unique reusable pad with anti-microbial bonding technology, that helps girls prevent infections during periods.
More information about PeriodPride-Keep our GIRLS in School at www.periodpridecampaign.org or by contacting:
Co-Founder of Period Pride, Thelma Musanhu, at th[email protected] , or mob. + 263 782 259 872
Real Relief Managing Director, Trine Angeline Sig, at [email protected], or mob. +45 2826 2600
Join us and support girls from a country of your choice
Disclaimer
*This article was posted in its entirety as received by SKN PULSE. This media house does not correct any spelling or grammatical errors within press releases and (or) commentaries. The views contained within are not necessarily those of SKN PULSE.