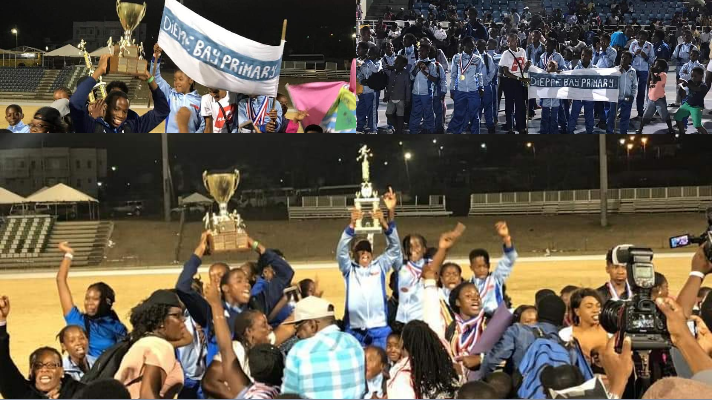 Photo Caption: Students, Teachers and well-wishers of the Dieppe Primary School Celebrating their victory
By: Tito Chapman
Athletes of Dieppe Bay Primary School etched their names in the primary school athletic championship history books, as the team copped 9 gold medals over two days of competition, securing the school's first Primary School Athletic Championship.
A feat which brought a historic end to the Ram's sponsored Primary School Championships. The Dieppe Primary School beat out 14 other schools to win the coveted title.
As the smallest school in St. Kitts with a roll of 98 students, Dieppe Bay overcame the odds and dethroned the Dr. William Connor Primary School, who won the championship last year, (three peat).
The school's success was recognised by Constituency representative, Opposition Leader the Hon. Dr. Denzil Douglas, who congratulated the Dieppe Primary School for their outstanding performance.
The final results:
Winner: Dieppe Bay Primary with 9 Gold, 5 silver and 4 Bronze,
2nd: Cayon Primary- 7 Gold, 10 silver and 8 bronze,
3rd: Dr. William Connor Primary- 6 Gold, 9 silvers and 8 bronze.