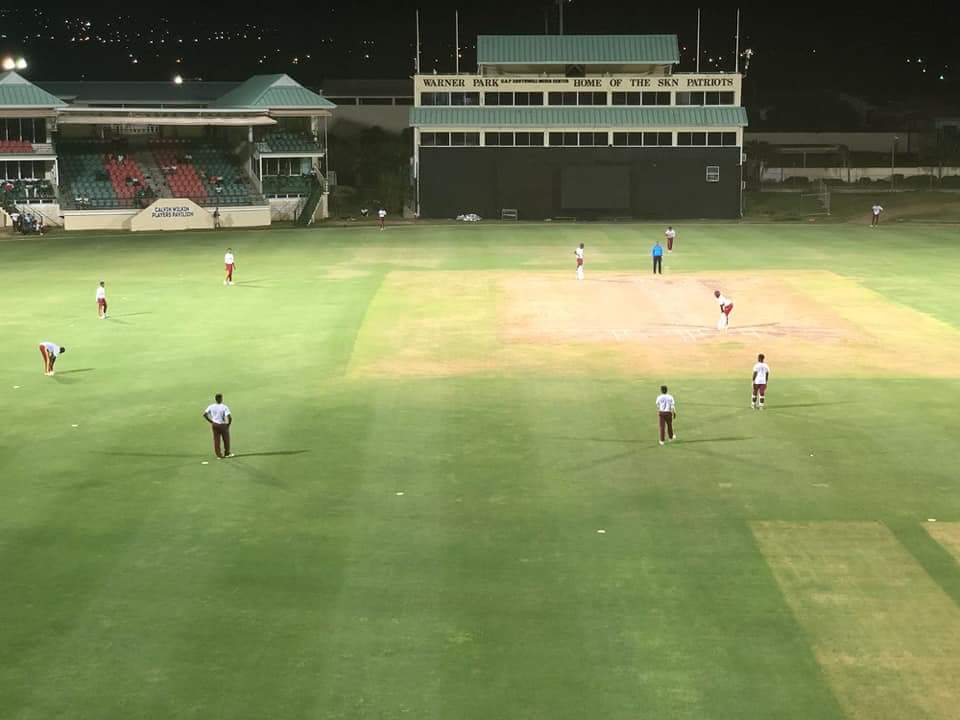 Photo Caption: St. Kitts U20 vs Nevis U20 at Warner Park St. Kitts, Saturday 8th September, 2018, (sourced photo – thg)
By: Staff Writer
It has been said that cricket is a game of glorious uncertainty; Saturday this proved true when the St. Kitts U20 team engaged their Nevisian counterparts at Warner Park. St. Kitts won the encounter by just two runs in a nail biting finish.
St. Kitts having won the toss, elected to bat first and were in early trouble. The Nevisian bowling attacked struck early. At one point St. Kitts were 53/7.
An exciting knock from Rashid Eddy saved the day for St. Kitts. According to local sports writer, Curtis Morton:
"He took a particular liking to the off spin of Trishawn Francis and proceeded to blast him over the straight boundary, not once, not twice, but four emphatic times."
Eddy's knock of 38 ensured St. Kitts got to a competitive total. They made 103 in 19.3 overs.
Nevis was off to a rocky start with the loss of Ross Powell. However, they recovered nicely with Jamie Cornelius and Shelton Forbes before wickets started tumbling. Nevis were 73-4 when an update on the match was provided.
The St. Kitts spinners brought their team back into game.
The Nevis team buckled under pressure. At 99-8, one over remaining 5 runs needed, it was anybody's game,
Morton penned, the first ball, Sharma turned neatly into the onside and set off for a sharp single.

He appeared to be well inside of his crease when a direct hit, tumbled the bails, but umpire Nisbett raised the dreaded finger, much to the dismay of the Nevisian supporters and much to the joy of the Kittitian die hards.

N'Cosie George then took strike. Five runs required from five deliveries.

Ball two, swing and a miss. Ball three –swing and a miss.

Ball four another lusty swing; mid-off stops cleanly, but the batsmen scamper for 2 crucial runs.

Three required from two.

Ball five-swing and a miss.

One ball to go; two runs to tie and three to win. The fat lady was hanging precariously from the balcony…..

Swing and a miss.
St. Kitts won by two runs.
Deputy Prime Minister and Minister for Sports, Hon Shawn Richards was in attendance. He presented medals, trophies and cash prizes to both teams and outstanding players.
Pemberton of the St. Kitts was adjudged man of the match for his 24 and for bagging two wickets.
Summarized scores were as follows: St. Kitts under 20: 103 all out in 19.3 overs: Rashid Eddy 38; Pemberton 24
Trishawn Francis 3 for 33; Carlon Tuckett 2 for 5; Boognarine Sharma 2 for 17 and Tewan Prentice 1 for 19
Nevis under 20: 101 for 9 in 20 overs: Jamie Cornelius 38; Shelton Forbes 20
Wadwha 3 for 8; Pemberton 2 for 16; Newman 1 for 14 and Smith 1 for 27
St. Kitts under 20 won by 2 runs