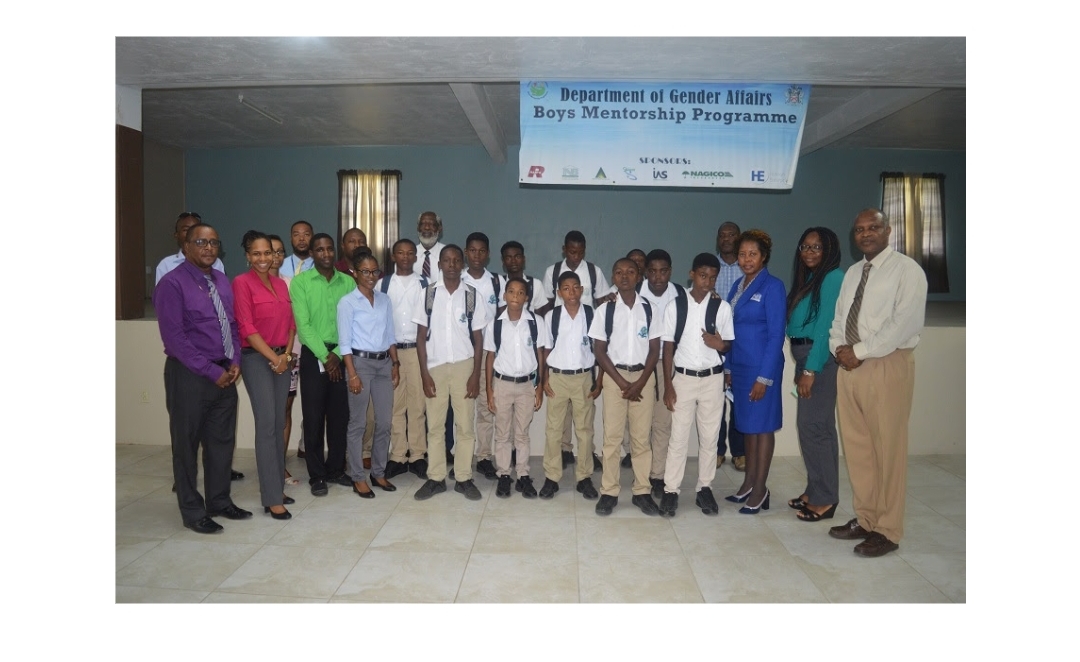 BHS Students, BHS Principal, Maurice Benjamin (first right),sponsors, representatives of Ministry of Education, and staff of Department Gender Affairs
Basseterre, St. Kitts, September 27, 2018 (SKNIS): At-risk adolescent males at the Basseterre High School (BHS) will now have a better chance of a brighter future through the launching of the Department of Gender Affairs Boys Mentorship Programme, which will provide the boys with life skill training, counseling, technical skills, job attachments and scholarships.

At the Launching Ceremony held today, September 27, at the Department of Agriculture, Chair and Coordinator for the Boys Mentorship Programme, Mr. Dion Browne, said that the programme which was initially launched in July 2016 as a pilot project will now continue to help transform the lives of young men throughout the Federation and take them on a journey of self-discovery.
"The boy's mentorship programme was launched in July 2016 at the Charles E. Mills Secondary School and since then we have seen some successes. We have evaluated the programme and made some adjustments and now we are ready to expand," he added.
Executive Officer in the Department of Gender Affairs, Mrs. Sharon Warner, said that the mission of the programme is to empower young men regardless of their social and economic status through training and guidance to make positive life changes that will impact their future.
"The programme seeks to improve the lives of boys at-risk between the ages of 12 and 18 and is designed to empower them through education, support, and the protection of their human rights," she said.
Representative from the National Bank, Sabina Vaughn, expressed that the bank is pleased to support the programme once again and commended the programme coordinator Mr. Browne for his passion in effecting positive change.
"We witnessed a young man who was passionate about effecting positive change in the lives of the young men of our Federation. We sensed his passion and became passionate ourselves and knew the bank would want to put its cooperate stamp of approval on the Boy's Mentorship Programme," she said.
Mentee of the pilot programme at the Charles E. Mills Secondary School, Mr. Delvin Williams shared the story that led him to be one of the 25 Remarkable Teens for 2017 rather than ending up in a life of crime.
"The programme was first introduced to me by my former guidance counselor at the Charles E. Mills School and he influenced me and showed me the right path. The programme also helps one financially. They went out of their way to help me because I went through a lot. I was able to get a mentor and he guided me and now I am a student at the Clarence Fitzroy Bryant College (CFBC) and I am studying Information Technology," he stated.
The programme is operated through the Department of Gender Affairs and is sponsored by the St. Kitts-Nevis Anguilla National Bank, Island Auto Supplies, Hobson Enterprises, Nagico Insurance, Delisle Walwyn, and Rams Trading Ltd.