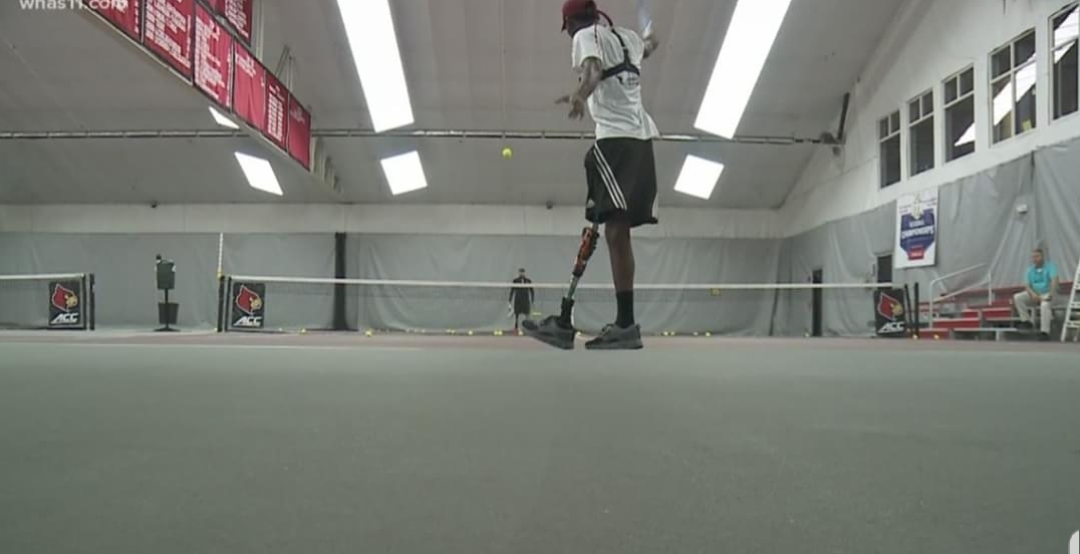 Photo Caption: Dionte playing tennis, (source photo).
Story Credit: WDRB.com
LOUISVILLE, Ky. – Dionte Foster, a Special Olympic athlete from St. Kitts has gotten a prosthetic leg from Louisville Prosthetics.
According to (WDRB) online portal, Dionte Foster traveled from the island nation of Saint Kitts and Nevis. The 21-year-old has been playing tennis with one leg, since 2015. The article stated "he was at the Special Olympics World Games, when doctors diagnosed him with bone cancer, and his leg had to be amputated."
The new athletic prosthesis allowed him to return to playing competitive tennis. Earlier today, (Thursday, 27th September) he played with U of L's head men's tennis coach.
"Getting this prosthesis — it's like a dream come true," he said. "I'm really grateful that I have my leg now. I can get around a lot better, put my crutches aside."
Foster said:
"It's amazing to be here playing tennis again. "
"With each serve and hit comes gratitude to all of the people who got him to this point at no cost."
Foster is very appreciative of the gesture to get him a leg. He expressed thanks:
"Thank you, and I love you guys," Foster said.