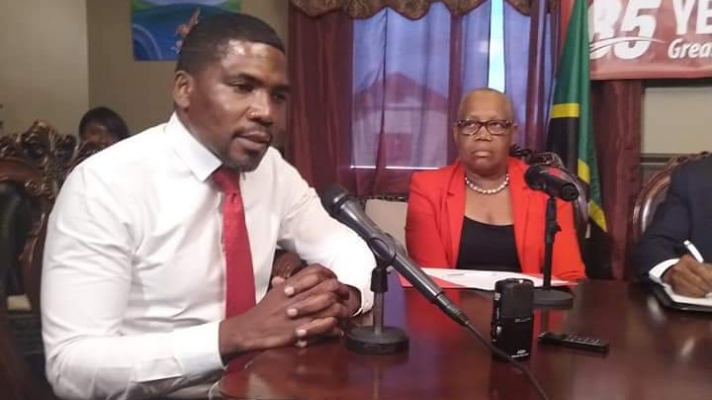 182/2019
By: Erasmus Williams
Basseterre, St. Kitts, February 25, 2019 – Chairman of the opposition St Kitts-Nevis Labour Party (SKNLP) Dr Terrance Drew said Sunday, the EC$6.8 million paid to lawyers by the Timothy Harris Unity Government (THUG) to remove former prime minister and Leader of the Opposition, the Rt Hon Dr Denzil Douglas from the National Assembly could be better spent on several initiatives to better the quality of life of the people.
"The EC$6.8 million can build at least 60 homes for 60 families here in St Kitts and Nevis. $6.8 million can purchase at least three new up to date 2019 MRI machines to be placed at the hospital. $6.8 million can buy at least seven well-equipped ambulances to be placed at every hospital here in St. Kitts and Nevis. There is only one ambulance at the J N France Hospital at times," said Dr Drew on Sunday night at a massive political meeting in St. Paul's, the birth village of Dr Douglas.
He also pointed out that $6.8 million can send 68 Kittitian and Nevisian youths to study at the University of the West Indies (UWI) at no cost to the youths.
"$6.8 million can send all the college-bound to the Clarence Fitzroy Bryant College (CFBC) in St. Kitts. $6.8 million can be used to reduce our National Debt and $6.8 million can employ about 100 youths with a monthly salary of EC$5,000. But instead of using the $6.8 million to advance our country and is people, that money has been used to pay lawyers to get the court to remove our leader who was elected by his people," said Dr Drew, a Cuban and US trained physician.
"These monies can be better spent to uplift our people and our country, but instead are being used to tear down one man. Dr Timothy Harris will not stop as he continues to empty the treasury in a revengeful vendetta," Dr Drew said