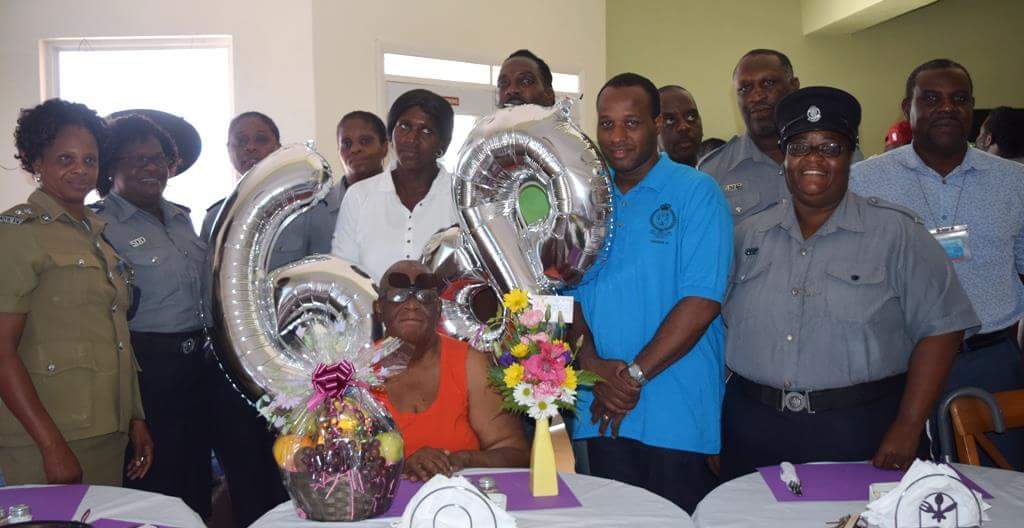 Basseterre, St. Kitts, September 04, 2018 (RSCNPF): Members of Training Course #27 paid tribute to retired Inspector Carol Williams as part of their recent anniversary celebration activity.

Customarily, since the group passed out from the Police Training School in 1997, they have been meeting every year to commemorate the occasion. Strong bonds are built among Officers who train together, but this group also developed close ties with their instructors. As a result, Course #27 has also been inviting the persons who taught them during the training to be a part of their anniversary activities that have even included trips abroad. Unfortunately, Inspector (Retired) Carol Williams, who was one such instructor, had to end her participation due to physical limitations she developed.
For this year's anniversary celebration, Course #27 decided to pay tribute to Inspector (Ret.) Williams. As per usual, their past instructors were invited and the group took her out for lunch and presented her with flowers and a fruit basket. But they did not stop there, Course #27 went a step further and invited her three children to be involved in the activity.
Speaking on behalf of the group, Corporal Marvin Thompson described Inspector (Ret.) Williams as one of the instructors who had a significant impact on them during their training.

"Such was the impact that over twenty years later we are still saying thank you to the inspector. We decided to celebrate with Inspector (Ret.) Williams, or "Auntie Carol" as she is affectionately known, on her sixty-eighth birthday. We think it is only fitting to give her her flowers while she is alive and able to appreciate them," Corporal Thompson explained.
Inspector (Ret.) Williams is also held in high regard within the Royal St. Christopher and Nevis Police Force as she was the first female Officer to have reached the ranks of Sergeant and Inspector. She was also the first female allowed to continue serving as a Police Officer after getting married and giving birth to a child.
However, Corporal Thompson added that the moment was bittersweet because the group was also mourning the loss of a colleague. Sergeant Leon Powell, who was shot and killed recently, was a member of Course #27. Corporal Thompson disclosed that the group was close to cancelling this year's anniversary plans as a result of his untimely passing.
"In fact, he was the recipient of the Best Recruit Award. He had planned to be with us as we honoured Inspector (Ret.) Williams. "Shabba", as he was called, would have wanted us to go and celebrate with Auntie Carol, so we came," said Constable Thompson. "I could hear him saying 'All you go man, don't bother with that'. But we reminisced about the times we had with him. That, in itself, was therapeutic in this painful time."