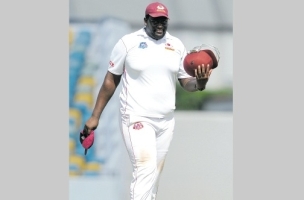 Antiguan and Leeward Islands all-rounder Rahkeem Cornwall is back on the Cricket West Indies "fitness programme" amid reports he is being considered for selection ahead of India's tour of the Caribbean now slated for August.
In an interview with OBSERVER Sports, Cornwall said he is currently working with CWI fitness coordinator Ronald Rogers out of Trinidad.
Training-wise, I am trying to get as fit as I can because I think I am preparing for India. It's nothing in terms of getting to a particular weight but just to see how far I can get as quickly as possible between now and June.

Rhakeem Cornwall
According to the Observer, Cornwall is happy to be back on the programme and hopes it results in finally being able to make his senior team debut.
It is something that I am up for and something I am happy about so it's just up to me now to put in the work.

It's really just the gym alone because we do gym in the mornings and then we do on-the-field work. In the afternoons I would do my cricket activities.
Cornwall represents the PIC Liberta Blackhawks on the local front and most recently played in the Cool & Smooth T20 Explosion. Playing in two leagues, the other; the national cricket league are critical in his efforts to remain match-fit.
According to the article, the all-rounder expressed the following sentiment on playing in two leagues:
It's a little testing . . . after playing in the nights and then have to go first up in the morning to train. It tests how mentally prepared you are to go and do the job at hand.

Rhakeem Cornwall
Having had a solid 2018 season, Cornwall finished the CWI's Four Day competition as the chief wicket taker with 54 wickets at an average of 17.68. He was the only bowler to pass 50 wickets in the season and to add to that he amassed 419 runs at an average of close to 28.
Original Story Credit: Observer Sports