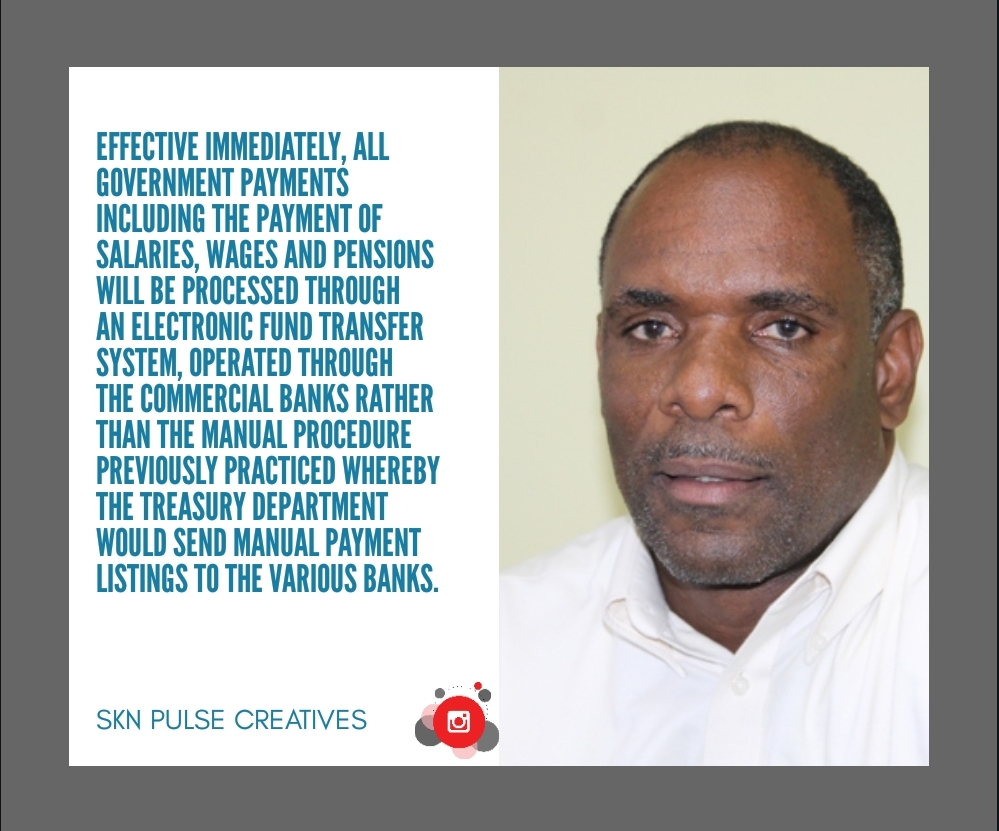 NIA CHARLESTOWN NEVIS (August 20, 2018) — The following is a press statement from the Ministry of Finance in the Nevis Island Administration (NIA) dated August 20, 2018, relating to changes in processing payments by the NIA through the Treasury Department.

The commercial banking sector has changed its procedure for processing payments issued by the NIA's Treasury Department to persons who would have supplied goods and services to the Administration. This would also include changes in the procedure for payment of government salaries, wages and pensions as well.
Effective immediately, all government payments including the payment of salaries, wages and pensions will be processed through an Electronic Fund Transfer System, operated through the commercial banks rather than the manual procedure previously practiced whereby the Treasury Department would send manual payment listings to the various banks.
This new system now requires the Treasury Department to upload the payment instructions including salary and wages and pensions onto the payment portal which then routes the payment to the relevant bank for deposit to the accounts of Civil Servants, Pensioners and other suppliers.

This system is totally electronic and will be used for the first time for the payment of government salaries on Tuesday 21st August, 2018. There will be no noticeable effect on the lodgment of funds to your account and we expect that there will be smooth seamless processing of payments on that day.
However, as this system is being used for the first time and bearing in mind the number of transactions for processing on that day, it is likely that there may be some delays in the posting of salaries to the various accounts, especially for persons who normally access their salary online or at the Automated Teller Machine (ATM).
We crave your patience and understanding, as we seek to embrace advances in technology to enhance our payment processing system.
In the event that you experience any difficulty with your payment on that day, you are asked to immediately contact the Treasury Department or your bank for assistance in resolving the issues faced.
Disclaimer