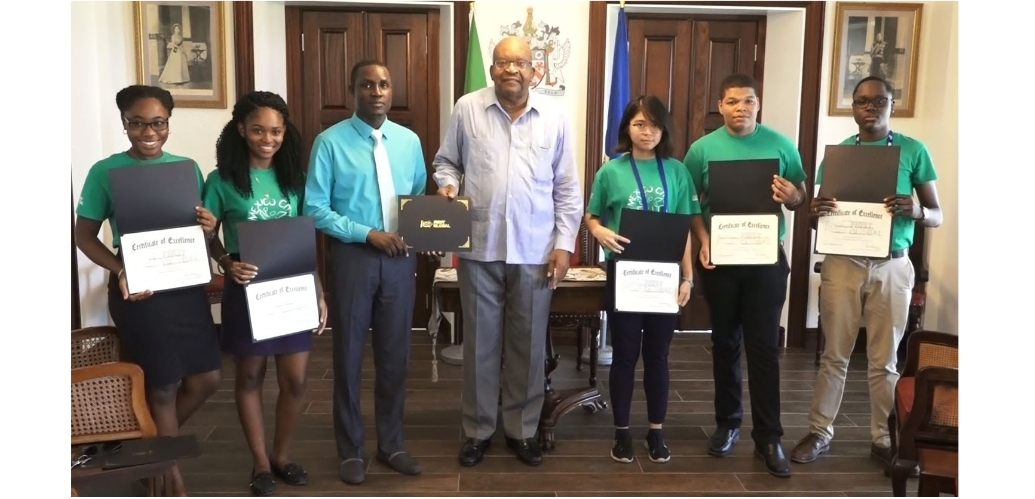 Basseterre, St. Kitts, September 05, 2018 (SKNIS): A warm welcome to Government House was extended to the members of the Clarence Fitzroy Bryant College (CFBC) robotics team by Governor General, His Excellency Sir Samuel Weymouth Tapley Seaton, GCMG, CVO, QC, JP, who said he was quite impressed with the students who have proven to be successful in the field of robotics.

The governor general noted that he knew the team would go far.
"I met some of the team last year because I've been pleased with your performance at the robotics exercise and even before it was completed I wrote a note of congratulations as I thought your efforts up to that time were excellent and there again continued. This year again, I am happy to welcome you and see that you are continuing to represent us with distinction and I certainly want to encourage you."
This year, the team represented St. Kitts and Nevis in another exercise in Mexico City where they won six matches out of eight. Last year, the team won four out of eight matches. They were also able to retain first position in the OECS and third in the Caribbean.

The Governor General expressed that he was happy to see the progress that the team has made and the strides it has made in representing the country.
"We are always happy when young persons have an opportunity to excel and to put St. Kitts and Nevis on the map even further and your efforts are very commendable in that regard and so again congratulations," he said.
Last year, the team traversed to Washington DC for its first robotics competition and the world's first robotics Olympics. The country placed 36 out of 163 teams. St. Kitts and Nevis was the only federal country to be at that level. The island competed against countries that had 10 to 15 years of experience.
-30-
Disclaimer