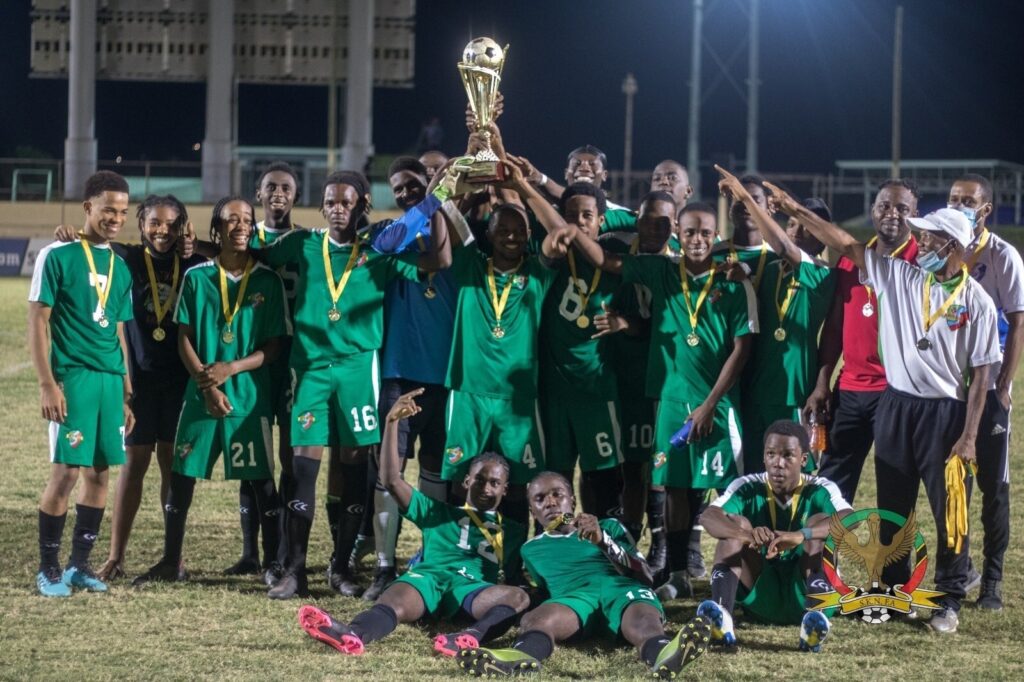 Bath United are the SKNFA Division 1 Champions after a comprehensive 3-0 victory over THE Dieppe Bay Eagles in the finals played at the Warner Park on Thursday.
BATH UTD 3 – 0 TGE DIEPPE BAY EAGLES
Scoring for Bath Utd
Dejal Myers scored 2 goals – (pk) 26th & 60th min Rocco Browne 53rd min
Some fans were left a bit bewildered with Bath's second goal as the Dieppe Bay goalkeeper and a Bath player went down in the box. The referee however did not stop the game and while Dieppe Bay defenders stopped and gazed at the two injured players, Rocco Browne headed the ball into the back of the net and ran to his team's bench to celebrate the goal. The goal stood. Moments later, Meyers, after scoring a first half penalty, broke away down the stretch and beat the goalkeeper, but hit the upright, only to follow up the rebound into an empty net. With his two goals, he was selected Man of the Match. The SKNFA broadcast the match live on its website www.sknfa.com. After the match, Coach of Bath United, Alex Claxton praised his young group of players and expects great things from them in the Premier League.
He also said this victory means a lot to Nevis and the community of Bath. Incidentally, Bath lost to Dieppe Bay in the playoffs prior to the finals on Thursday. It was the lessons from that game that Coach Claxton used to win the match that really mattered.
"We recognized that the games that we played against Dieppe Bay Eagles that they played a more physical game and in terms of the free kicks, I recognized that this was something that needed fixing," he disclosed. "Our very next session I knew what we needed to coach on and so we made the preparation–making sure we work on our set pieces and also working to close down the ball quickly–making sure we pressure the ball and don't give them any time or space to play," the Bath United coach said. He said the majority of the players are still in the Under-17 category and this victory was for them and their parents.
"We started on a journey some three/four years ago when the team came back down from the Premier Division. A number of players left the team and so we started working rebuilding. And so today it's a very proud moment not just for me but the players as well," he said.
With the Division 1 season ended, Dieppe Bay and Bath United have both been promoted to the Premier League for next season.
—END—