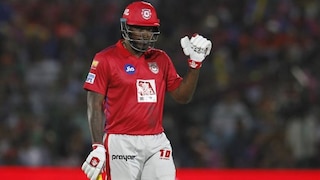 Chris Gayle on Saturday became the first cricketer in Indian Premier League history to smash 300 sixes in the tournament. (IANS)
By: Tito Chapman
The Dominant force in T20 Cricket, Chris Gayle on Saturday became the first cricketer in Indian Premier League history to hit 300 sixes in the tournament.
His brief stint at the crease was explosive, dismissed for a 24-ball 40, Gayle now has 302 sixes in the IPL from 115 matches.

As the leading leading six-hitter in the IPL, Gayle smashed 4 sixes against Mumbai Indians to reach the landmark, now he has 302 sixes with several matches still to be played.
Gayle stands alone at the top, no other batsman has hit even 200 sixes in the IPL. With a difference of 108, Gayle leads the list followed by second-placed AB de Villiers, who has smashed 192 sixes in his IPL career so far.
The West Indies veteran 100 sixes came in 37 innings, achieved in 2012 while his 200 sixes came in 69 innings in 2015. Now in 2019, he has achieved 300 sixes in 114 innings.
Gayle has long etched his name in the history books: as he holds the record for most sixes in an innings, when he scored an unbeaten 175 off just 66 balls against the now-defunct Pune Warriors.
Additionally, Gayle also hit a record 59 sixes in one IPL season, back in 2012. The self acclaimed Universe Boss also scored six centuries in one season of the league – the most by any batsman.