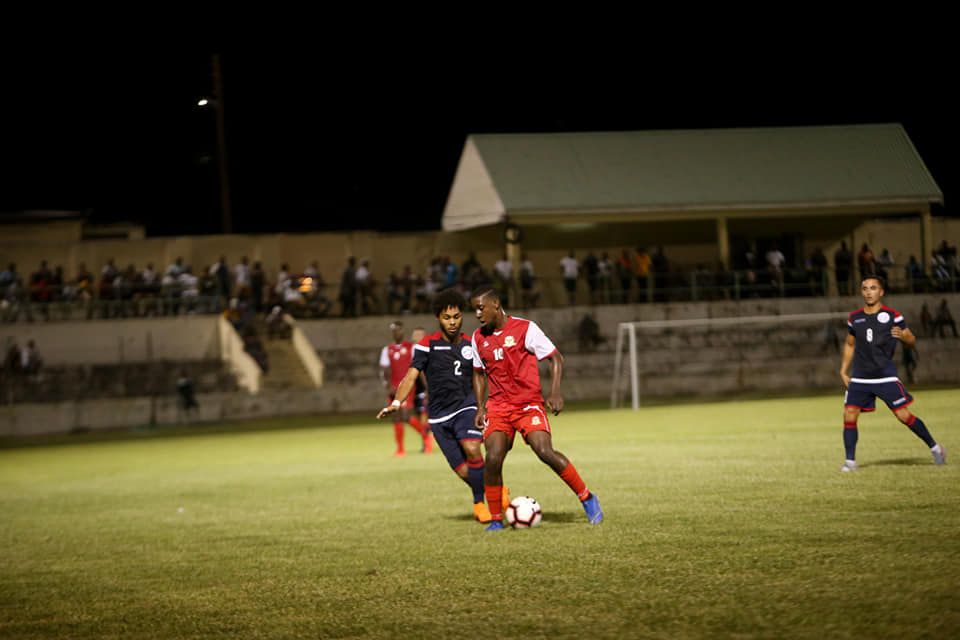 The St. Kitts and Nevis Under 23 team was defeated 2-0 by the Dominican Republic at the Warner Park on Sunday in the Concacaf Olympic Qualifiers, ending any chance of the young Sugar Boys making it to Tokyo 2020. The home side had an early chance to score the first goal of the match when nifty passing outside the 18 yard box and a through pass gave G'Vaune Amory a great chance to notch one in an open goal, but the ball hit the post and came out, much to the chagrin of the fans.

St. Kitts and Nevis fell to ten men at the brink of half time when Sala Connonier was sent off in 45th minute with a straight red card after a bad tackle on his opponent. In the second half, the visitors pressed high up the pitch and placed the home side under some pressure, but with one man short, the young Sugar Boys defended resolutely, though the goalkeeper almost gave up a goal in saving a ball from a corner kick.

In the end it took extra time before any goal was scored.

SCORING FOR DOMINICAN REPUBLIC
Ronaldo Junior Vasquez 96th min
Dorny Romero Chalas 102nd min

Those goals were enough to seal the win for Dominican Republic, who now move on to the final stages of the competition and one step closer in qualifying for the Olympics next year. At the end of the match, Coach Earl Jones of St. Kitts and Nevis, surmised that his boys played with heart but rue the missed chances in the first half. "If you look at it, we got a red card early in the game and I think that contributed to our loss tonight. Also, we had our own chances and we didn't put them away and karma just comes around. That's how it goes sometimes," Coach Jones said. He said the aim now is to encourage the players, get their spirits back up and regroup.

"Hopefully we keep the (players) together and continue practicing. This is our last game for the tournament. We just have to keep practicing and keep the group together," he said, adding that the players have been playing together for a long time, including having stints on the senior men's team. Despite the loss, the young Sugar Boys will hold their heads high after a valiant effort at home against the Dominican Republic.
—END—
Disclaimer: This article was posted in its entirety as received by SKN PULSE. This media house does not correct any spelling or grammatical errors within press releases and or commentaries. The views contained within are not necessarily those of SKN PULSE.