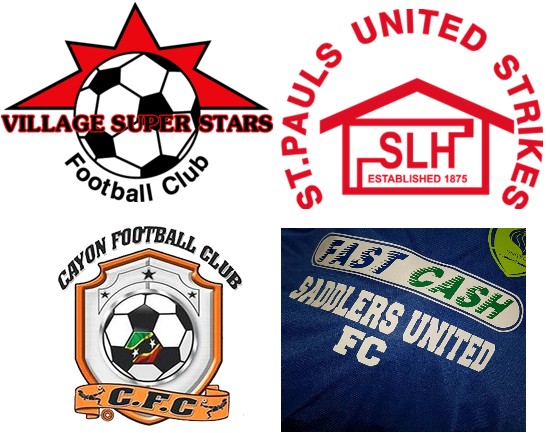 By: Andre Huie

Four teams in local football got off to a flying start during first weekend action of the 2018/2019 National Bank Premier League season. S.L. Horsfords St. Pauls F.C. played in the first match of the season, defeating Elco Ltd. St. Peters 2-0.
SCORING FOR ST. PAULS
Keithroy Freeman with 2 goals 16th & 52nd min
St. Pauls is under a new coach Iroy Jeffers Jeffers who is no stranger to the Premier League, having coached Rams Village Superstars in the past and was the assistant coach for St. Pauls. He has been promoted to the Head Coach position after the departure of longtime coach Austin 'Dico' Huggins. "We possessed the ball and tried to get the ball as wide as possible," he said. Jeffers said with a lot of new players coming through the ranks, they have to rotate the players to keep the team competitive.
Meanwhile, defending champions Rams Village Superstars got off to a flying start with a 2-0 victory over newly promoted United Old Road Jets.
SCORING FOR VILLAGE
Shandy Charles (old road) own goal 2nd min
Tiran Hanley (pk) 17th min
Meanwhile, on Sunday, a week after winning the 2018 President's Cup, Flow 4G Cayon Rockets got off to an excellent start to their campaign with a 3-0 victory over Hobson Enterprises Garden Hotspurs; scoring all three goals in the first half. Spurs were under their new coach, a former Spurs player in Austin Dico Huggins, who for several years coached the S.L. Horsfords St. Pauls. But it may be too early to see the Dico effect as Cayon dominated most of the play and stamped their authority on the match winning comfortably.
Cayon's Assistant Coach Jazza Buchannan, while happy with the win, was not completely satisfied with the team's performance. "Even though we won, I don't feel 100 percent (satisfied) with how we played," he said. "We have some things we need to work on. We have some six players gone from Cayon and we have some three guys to make their debut so we need to do some work with these guys and try to get the team back up," Buchanan said.

Meanwhile, Coach Huggins of Spurs felt his team did not put away their chances in order to get back in the game, which is why they lost the match. "We gave up some soft goals in the first half. Second half we made some adjustment; managed to keep the score 0-0 in the second half but we just have to keep working in solidifying the defense," Coach Huggins said. "We created some opportunities (to score) but we failed to capitalize," he added.
In other results:
FAST CASH SADDLERS 2 – 0 MANTAB
SCORING FOR SADDLERS
Evansroy Barnes 11th min
Nicquan Phipps 51st min
YELLOW CARDS
Steve Barnes (saddlers) 4th min
Dulani Carey (mantab) 67th min
Tristan Hanley (mantab) 79th min
MATCH #2
SOL ISLAND AUTO CONAREE 1 – 1 MAP NEWTOWN UNITED
SCORING FOR CONAREE
Tijani Fahie 41st min
SCORING FOR NEWTOWN
Kejauni David 79th min
YELLOW CARDS
Mervin Lewis (Conaree) 21st min
Tristan Samuel (Conaree) 30th min
Giovani Lake (Newtown) 90th min
The league continues this weekend.
—END—
Disclaimer