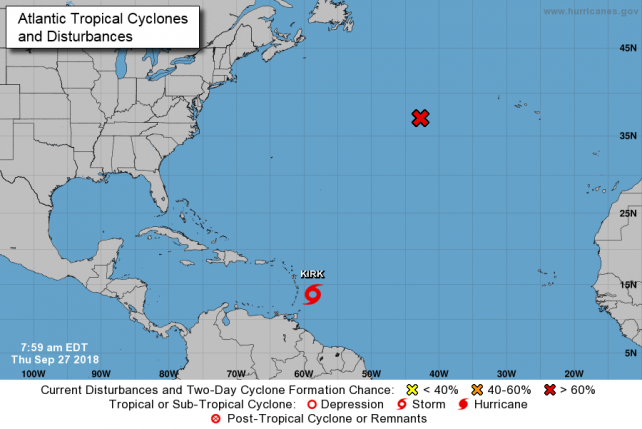 By: Staff Writer
The State-owned DBS Radio reported moments ago that it had received information from Prime Minister Skerrit that there will be no work today as Dominica prepares for the projected passage of the storm later today.
"The general public is hereby advised that today, Thursday, September 27th will not be a working day, in light of Tropical Storm Kirk. Please be guided accordingly," the prime minister also wrote on his Facebook page.
Skerrit announced on Wednesday night that there would be no school today.
"With respect to the no work decision, we are erring on the side of caution because of our profound concern for the safety of our citizens and residents because we do not take decisions like these to have people stay home very lightly as I am very concerned about the impact of these decisions on the economy but at the same time our primary concern would be the safety and well being of the citizens and residents of the country,"
Skerrit said in an interview on DBS on Thursday morning.
He said essential services, as is customary, will remain on duty.
The prime minister addressed the lack of clarity in the information regarding the movement of residents which was given by the police at a NEPO press briefing at 8:30 on Wednesday night.
"I understand there was some confusion last night…I think what the police wanted to say was that those who have no business outside to remain indoors and we are urging people that really, if you have no business outside to stay indoors. We do not know how impactful the weather will be on our country, so we have to take all precautionary measures," he explained.
At 5 am today, Tropical Storm Kirk was located near latitude 13.5 North and longitude 58.3 West or 224 miles or 360 kilometers east south-east of Dominica.
Maximum sustained winds remain near 50 mph and extend 140 miles to the north and east of the center of the system.
Kirk is moving west north-westward near 16 mph.
On the forecast track, the center is projected to move south of Dominica, near to or over Martinique, later this afternoon into evening.