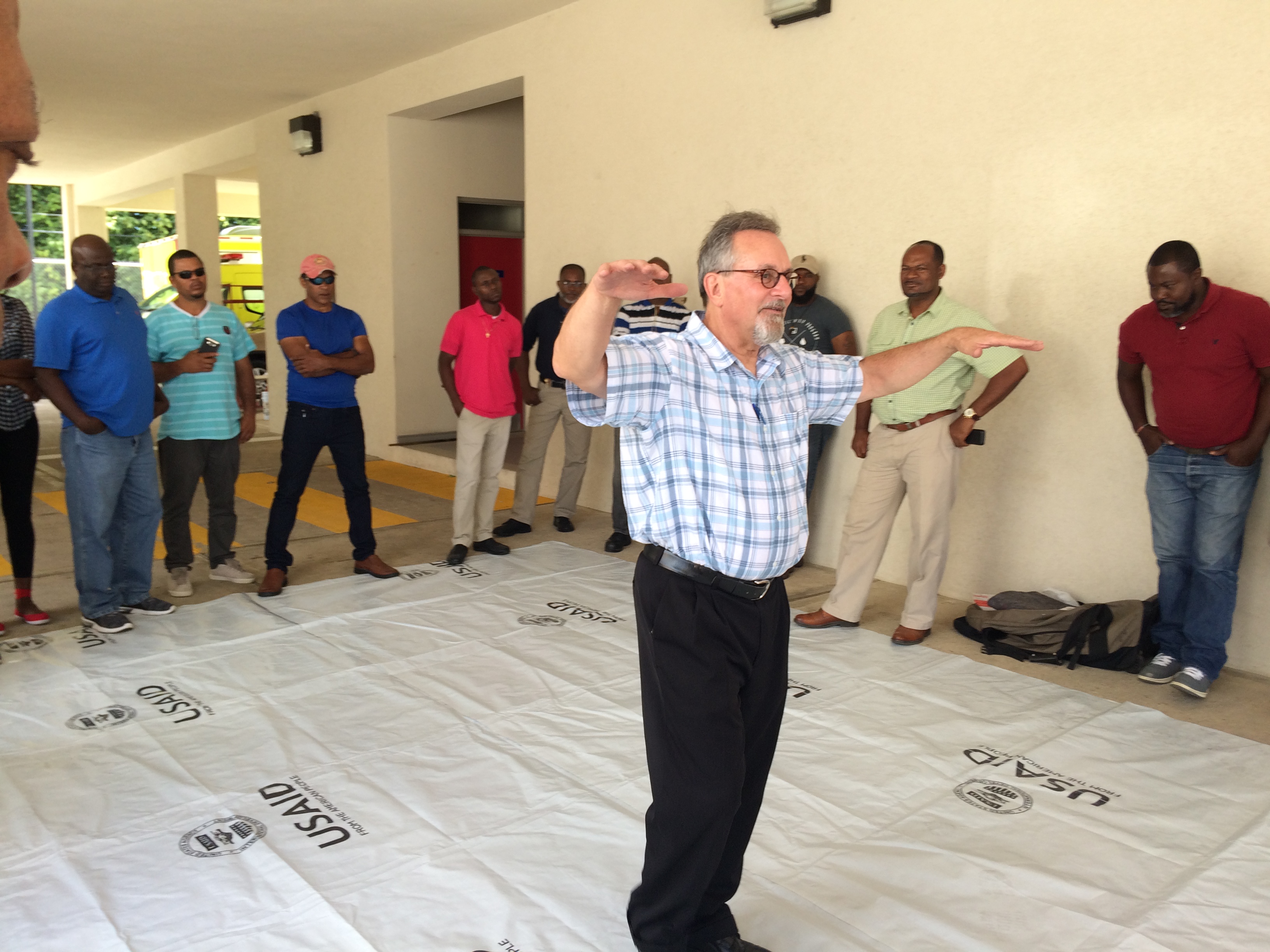 Caption: USAID/OFDA's Senior Shelter & Settlements and Hazard Mitigation Advisor Chuck Setchell captures the attention of participants during the Plastic Sheeting Training workshop.

August 25, 2018
As part of hurricane and general disaster preparedness efforts in the Caribbean, the United States Agency of International Development's Office of U.S. Foreign Disaster Assistance (USAID/OFDA) is training national disaster managers in the effective use of the Agency's reinforced plastic sheeting for temporary roofs and shelters.
On August 24, USAID/OFDA, in collaboration with the Barbados Department of Emergency Management, supported a one-day workshop for regional disaster managers and partners. It was held at the Barbados Fire and Rescue Services Academy.
During the workshop, attended by national disaster representatives from Antigua and Barbuda, the Bahamas, Barbados, Dominica, Grenada, Jamaica, St. Lucia, St. Kitts and Nevis, and St. Vincent and the Grenadines, USAID/OFDA shelter advisors demonstrated cutting techniques and proper application of the plastic as temporary roof cover. The training also included four practical exercises – creating covered living space, proper framing to support the plastic sheeting, correct cutting and care of the plastic sheeting, and calculating overall sheeting needs. Best practices pertaining to warehousing, logistics, and transportation of the plastic sheeting were also covered in the workshop.

"USAID plastic sheeting is some of the best in the world, and when installed correctly, it can last for years," said USAID/OFDA Regional Advisor, John Kimbrough, who covers the Caribbean region. "We hope this training will empower disaster management representatives from the various Caribbean countries to educate people in their home countries to use the plastic sheeting effectively the next time a disaster strikes."
USAID/OFDA has worked with field partners and manufacturers to develop the stronger and reinforced ultraviolet-resistant plastic that boasts a longer life expectancy than 'off the shelf' plastic sheeting, and is working to pre-position its use in the Caribbean.
"We continue to work closely with the Caribbean countries and our partners in the region to support them as they implement important disaster risk reduction work," explained USAID/OFDA Senior Regional Advisor Tim Callaghan.
-End-
Disclaimer