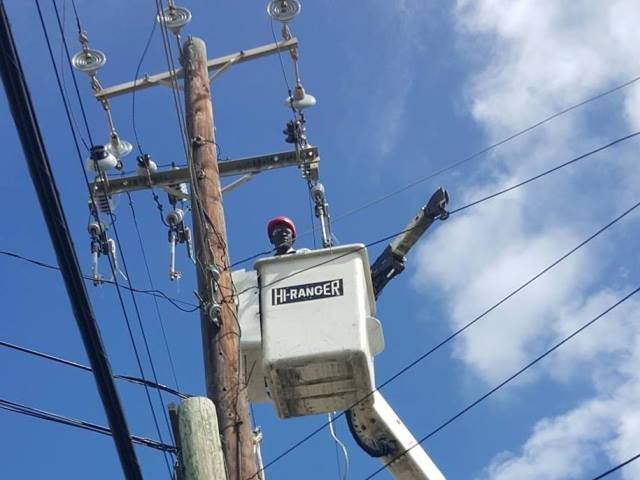 Earlier in the week there was a fault on our underground circuit on Cayon feeder. Our technicians have been working expeditiously to identify the exact area and extent of the damage to the cable, but have been unable to do so successfully as at today, April 19th 2019.
Since the fault on the underground circuit, feeder the load has been transferred to the overhead lines on that feeder. Such load is adequate during the daytime, when the load is low on the feeder. However, once the peak load is reached as nighttime approaches, the system can become unstable and cause local outages as has been seen in the area over the last four (4) days.
Since we have been unable to locate the fault ourselves, we began the process to get an engineer and the fault locating equipment on island which is scheduled to arrive on Saturday April 20.

Our projected timeline for repair work on the Cayon Feeder once the equipment arrives isapproximately two (2) hours to pinpoint the exact location of fault and another six (6) to eight (8) hours to excavate and repair the damage fault.
Once the cable is repaired, we are hoping to continue to provide the reliable electricity service our customers have come to expect from us.
We would also begin work on upgrading our overhead network infrastructure on the feeder as well, as the area continues to undergo growth and load continues to increase.
SKELEC takes the time out to continue to ask our customers for patience and understanding as we work tirelessly to rectify this issue.
Disclaimer

*This article was posted in its entirety as received by SKN PULSE. This media house does not correct any spelling or grammatical errors within press releases and (or) commentaries. The views contained within are not necessarily those of SKN PULSE