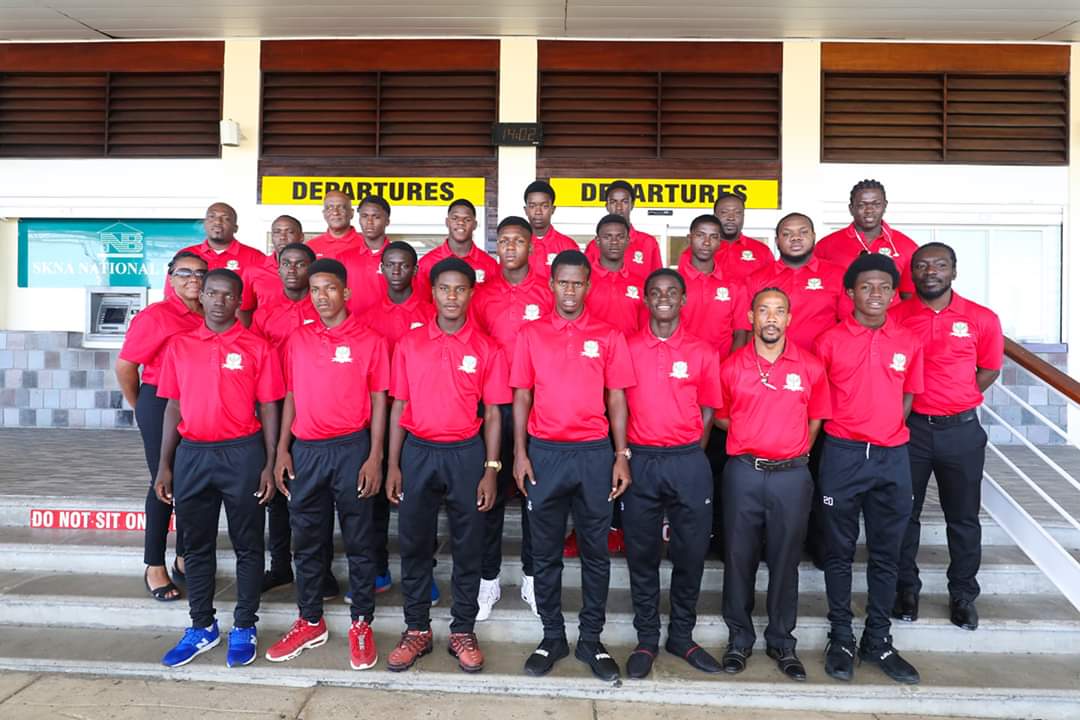 Photo Caption: St. Kitts and Nevis U17 Football Team, (Photo Credit: SKNFA)
By: T. Chapman
St. Kitts and Nevis U17-Men's team departed the Federation yesterday, Thursday 28th March 2019 for Tampa Florida, where they will be competing in the CONCACAF Qualification Round.
The tournament, which will be played at the IMG Academy in Bradenton, Fla., will be played in three rounds.
The qualifying round occurred from March 16-24, for Groups A and C) while April 1-9, for Groups B and D. The final championship (Groups E, F, G, H and the knockout stage) will be played from May 1-16.
There are a total of 35 teams competing in eight groups. The top finisher in each of the first four groups from the qualifying round will advance to the knockout stage.
The qualifying round consists of the following teams.
Group A: Nicaragua, Grenada, Cayman Islands, U.S. Virgin Islands, St. Vincent & The Grenadines
Group B: Dominican Republic, Antigua & Barbuda, Belize, Dominica, Montserrat
Group C: Guadeloupe, Bahamas, Aruba, Saint Martin, Bonaire
Group D: St. Kitts & Nevis, Puerto Rico, Martinique, Anguilla
The top three finishers in each of the next four groups during the group stage will join the four teams from the qualifying round into the single-elimination Round of 16.
Team St. Kitts and Nevis' full squad is as follows:
Iquon Frazier
Rodgenique Hendricks
Quaneiki Clarke
Ajani MIlls
Jaheem Nisbett
Kaylon Liburd
Zian Drew
Kezandre Buchanan
Jalden Myers
De'Jal Myers
Leon Huggins
Tyreek Queeley
Trevaughn Liburd
TQuan Daley
Vibert Stephens
Rico Browne
Tyrique Davis
Jermaine Chuita
Micaah Garnette
Kejaun Ward
The Technical Staff are:
Corneil Williams – Head of Delegation
Diane Browne – Manager
George Isaac – Head Coach
Delvin Harris – Assistant Coach
Steven Browne – Assistant Coach
Masefield Nisbett – Physio/Trainer
Samuel Phipps – Goal Keeper Coach
Carlton Williams – Doctor
Jeffery Hazel – Technical Director
Note:
The group stage consists of the following teams.
Group E: Mexico, Jamaica, Trinidad and Tobago, Bermuda
Group F: United States, Canada, Guatemala, Barbados
Group G: Honduras, Haiti, El Salvador, Guyana
Group H: Honduras, Panama, Suriname, Curacao
The four teams that reach the semifinals qualify for the FIFA U-17 World Cup in Peru.