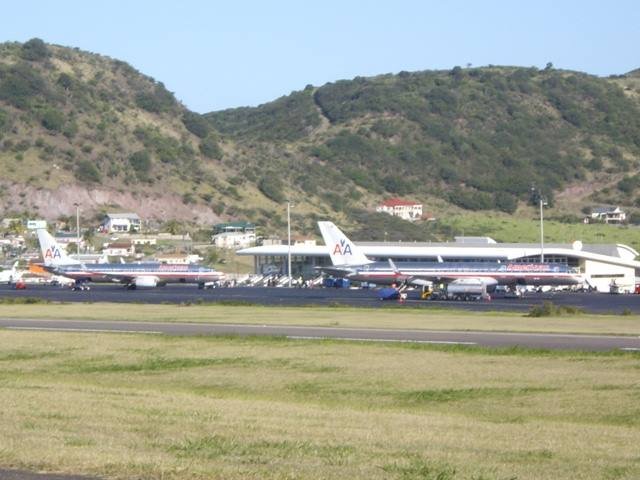 File Photo of aircraft at St. Kitts' Robert L. Bradshaw International Airport. (Photo by Erasmus Williams)
006/2018
New Jersey, USA, January 1, 2018 – Travel Weekly said Monday, that St. Kitts and Nevis was affected by U.S.-based carriers flying fewer seats to the region in December than they had a year earlier.
With portions of the Caribbean still struggling to recover from massive hits by hurricanes Irma and Maria in September, St. Kitts and Nevis, along with St. Barths, Anguilla and the British Virgin Islands saw air service declines of between 11.6% and 32.8% in December 2017.
According to the airline data analytics company OAG, the most-damaged Caribbean islands are all experiencing substantial drops in airlift this winter.
Capacity to Puerto Rico was down 28.2% year over year in December. In the U.S. Virgin Islands, it was down 47.2%. Dutch St. Maarten, where the airport has been forced to move into temporary facilities while the terminal is rebuilt, saw a decrease of 62.4%.
Among specific airlines, American and JetBlue, the two largest U.S. carriers in the Caribbean market, flew 15% and 11.8% less capacity, respectively, year over year to the Caribbean in December. Delta's capacity was down 17.1%, United' was down 25.7% and Spirit flew 25% fewer Caribbean seats.
American Airlines, Delta, US Airways and United Airlines operate direct service to St. Kitts' Robert L. Bradshaw International Airport.
OAG said it expects similar types of numbers in January and February.
One exception to the trend was Southwest, whose Caribbean capacity was up 16.6%. The carrier has been broadening its Caribbean service since moving into the international market in 2014.
The storms and subsequent drop in service to affected markets have had a less consistent impact on prices. According to Hopper, an app that tracks airfares for price-conscious shoppers, fares out of the U.S. market were down 22.3% during the Dec. 16 to 25 holiday period for San Juan and down 23% for St. Croix, for example. But prices to St. Thomas were up 26.6%, and prices to St. Maarten were 36.9% higher.
Hopper measures prices based on what a traveller buying airfare that is cheaper than the fares purchased by 90% of travelers would pay.
*This article was posted in its entirety as received by SKN PULSE. This media house does not correct any spelling or grammatical errors within press releases and (or) commentaries. The views contained within are not necessarily those of SKN PULSE.