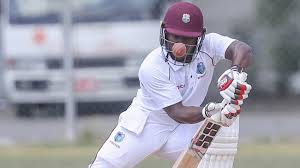 By: Sports Contributor
Leeward Islands wicket-keeper batsman, Jah­mar Hamil­ton has been called up to the West In­dies squad for the de­ci­sive sec­ond Test against In­dia af­ter Shane Dowrich was ruled out of the se­ries with an an­kle in­jury.
Shai Hope stood in with gloves for the open­ing Test at the Vi­vian Richards Crick­et Ground in An­tigua last week when the hosts suf­fered a 318-run de­feat in­side four days.
With Dowrich now back in Bar­ba­dos to con­tin­ue his re­cov­ery, Hamil­ton has been in­clud­ed in the 13-man squad which was an­nounced on Tues­day.
The un­capped 28-year-old glove­man has played 80 first class match­es and ac­cu­mu­lat­ed 173 dis­missals for the Leeward Island Hurricanes. He averages 26 with the bat and has scored six hun­dreds.
Hamil­ton fea­tured for West In­dies A in two of the three four-day "Tests" against tour­ing In­dia A.
Keemo Paul has also re­turned to the squad af­ter re­cov­er­ing from the an­kle in­jury that kept him out of the se­ries open­er. He replaces Cummins, who has been dropped.
The final test is slated for Friday 30 August at Sabina Park. The West Indies would be hoping to level the series after a crushing defeat in the first test.
FULL SQUAD – Ja­son Hold­er, Kraigg Brath­waite, John Camp­bell, Dar­ren Bra­vo, Shai Hope, Ros­ton Chase, Shim­ron Het­my­er, Shamarh Brooks, Jah­mar Hamil­ton, Rah­keem Corn­wall, Ke­mar Roach, Shan­non Gabriel, Keemo Paul.