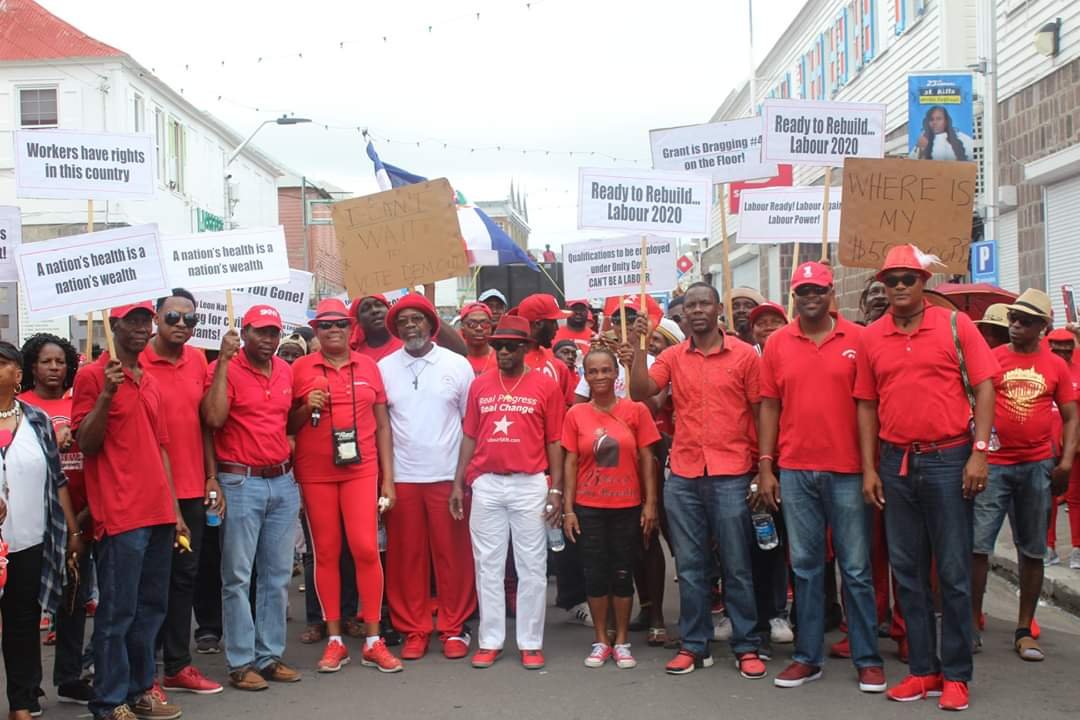 387/2019
By: Erasmus Williams
Basseterre, St Kitts, May 6, 2019 – Thousands of took to the streets of Basseterre on Monday in a show of support for the opposition St Kitts-Nevis Labour Party (SKNLP) and condemned the wanton corruption, victimization, deception, nepotism and cronyism of the four year old coalition administration of prime minister Dr the Hon Timothy Harris.
In the traditional Labour Day March, with the pom-pom girls at the beginning, the Right Hon Dr Denzil L Douglas, National Political Leader of the St Kitts-Nevis Labour Party, led the marchers from the Patsy Allers Recreation Ground in the hours long route via Cunningham, Central, Fort, Bank and George Streets, Sandown and Pond Roads and Cayon Street before returning to the Patsy Allers Recreation Ground.
Marchers carried placards which read: "Scandals After Scandals in this Government," "Jobs for retitred geriatrics 100,jobs for returning graduates 0," "We want a new school but not on our acquifer," "BHS problem was a sham," Thank you Leon Natta for fighting for civil servants," "A nation's health is a nation's wealth," "Ready to rebuild Labour 2020," "Corruption,NO, Bribrery, NO, Scandals, No, Harris must go," "Where is my $500?," "Grant is dragging #4 on the floor," "We don't want to end up drinking toilet water," "Where is the Electoral Office Report," "Where is the Stam Cell Report," "The Labour Movement Cares about workers," and "Workers need a mold-free environment."
As the marchers wend their way through the streets of Basseterre, Dr Douglas, who is also Leader of the Opposition, leaders of the St Kitts-Nevis Trades and Labour Union and several of the SKNLP candidates in the next general election. took to the microphone urging the marchers and those who watched from the sidelines to rid St Kitts and Nevis of the Timothy Harris-led PLP/CCM/PAM government.
Observers note this year's celebration on Labour Day attracted more civil servants following the recent High Court ruling that they had a right to be a part of the political process by actively participating as candidates.
Observers note too more workers, young persons and males also participated.
The day's event was overshadowed by the passing earlier in the day by the President of the St Kitts-Nevis Trades and Labour Union, Mr Joseph O'Flaherty.
A minute's silence was observed in his memory.
Disclaimer
*This article was posted in its entirety as received by SKN PULSE. This media house does not correct any spelling or grammatical errors within press releases and (or) commentaries. The views contained within are not necessarily those of SKN PULSE