The Senior Men's National team is in Miami preparing for their participation in the Concacaf Gold Cup Preliminary round, when they will face Curacao in the first match on the 16th of June in Fort Lauderdale. St. Kitts and Nevis finished top of the table in Group B, League C of the Concacaf Nations League, and by virtue has qualified for this crucial stage of Gold Cup qualification. If the Sugar Boyz defeat Curacao, they will face either French Guiana or Dutch St. Maarten in the next match to qualify for the Gold Cup. St. Kitts and Nevis has never qualified for the Gold Cup so this would be a major feat in the federation's football history.
The SKNFA released a provisional squad list on Monday, which is not the final team list. Based on Concacaf rules, the final squad list cannot be released before a certain date. The final list will be out closer to the start of the prelims.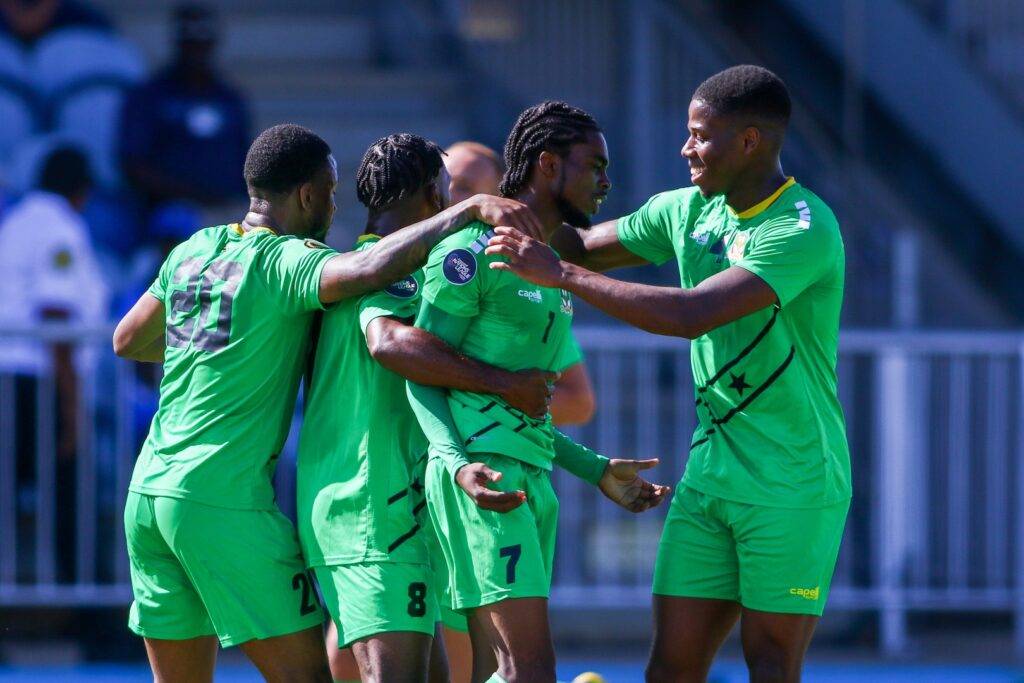 Manager of the team Jamir Claxton, gave an update on Tuesday on the team's trip and status of preparation ahead of their first match. Should the Sugar Boyz be successful in qualifying for the Gold Cup, they will compete in Group A which features the USA, Jamaica and Nicaragua.
The preliminary squad list include:
(Goalkeepers)
Julani Archibald: CF Lorca Deprotiva ( SPA)
Jamal Jeffers: St.Paul's United (SKN)
Xander Parke: Shrewsbury Town ( UK)
Zaykeese Smith: Village Superstars (SKN)
Adrian Samuel : Conaree FC ( SKN)
(Defenders)
Andre Burley: Oxford City FC ( UK)
Raheem Hanley: Stalybridge Celtic (UK)
Raheem Francis: Village Superstars ( SKN
Ezrick Nicholls: University of Tampa( US)
Malique Roberts: Cayon FC( SKN)
Gerard Williams: Unattached
Jameel Ible: Guiseley AFC ( UK)
Dijhron Simmonds: Cayon FC( SKN)
Rico Browne: Birmingham FC ( UK)
Mikkel Hirst: Romulus FC ( UK)
Lois Maynard: Oldham Athletic ( UK)
(Midfielders )
Romaine Sawyers: Cardiff City ( UK)
Yohannes Mitchum: Newtown FC(SKN)
Mervin Lewis: Cayon FC ( SKN)
Raheem Somersall: North Carolina FC (US)
Tyquan Terrell: St.Peter's FC( SKN)
Theo Wharton: Newton (UK)
Tyrese Shade: Swindon Town (UK)
Kimaree Rogers: Village Superstars ( SKN)
Kalonji Clarke: St.Paul's United ( SKN)
(Forwards)
Keithroy Freeman: St.Pauls United FC(SKN)
Tiquanny Williams: Old Road Jets(SKN)
Carlos Bertie: Cayon FC( SKN)
Harrison Panayiotou: Aldershot Town ( UK)
Rowan Liburd: Cheshunt FC ( UK)
Ronaldo Belgrove: FC Miami City ( US)
Tishan Hanley: Unattached
Jacob Hazel: Darlington FC
Omari Sterling-James: Ebbsfleet United ( UK)
-END-