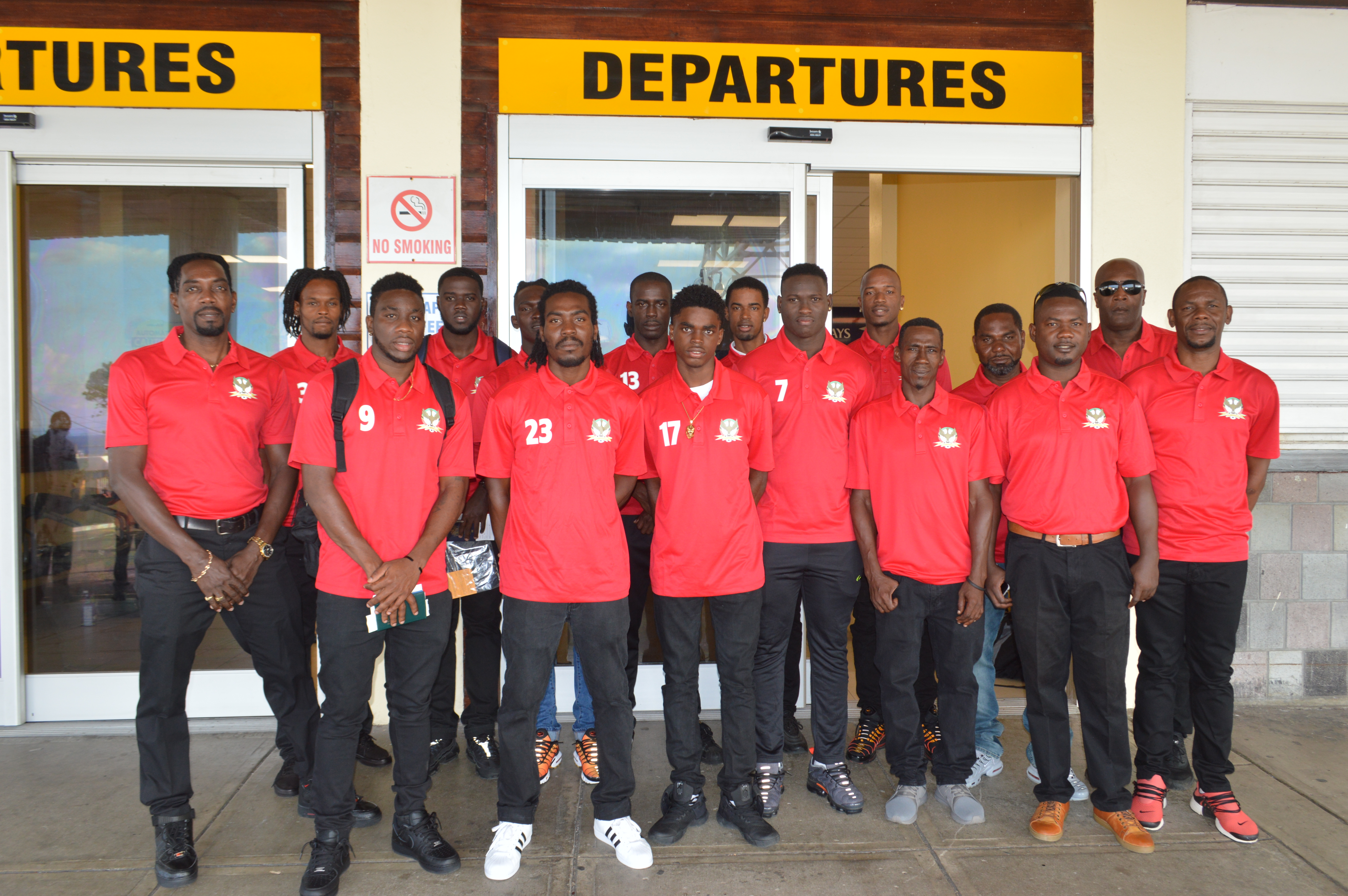 Caption: Members of the St. Kitts and Nevis Senior Men's National Team and technical staff at the RLB International Airport before departing the Federation to Suriname on Monday.

The St. Kitts and Nevis Senior Men's National Football team departed the Federation on Monday morning to Suriname to play in the most important match in the history of St. Kitts Nevis Football. The Sugar Boys will do battle with Suriname in their final CONCACAF Nations Leaguer Qualifier match on Saturday March 23rd. Victory in that encounter means St. Kitts and Nevis will qualify for the CONCACAF Gold Cup for the very first time. On Monday at the RLB International Airport before the team departed, Assistant Coach Earl Jones expressed confidence the team will come out victorious.

"We are trying to make history, to make the Gold Cup for the first time in history. Definitely, we will be victorious. It's always a pleasure to be a good ambassador for your country," the assistant coach said.
He said they have prepared well for Suriname and he can assure fans they will come home victors. "We looked at a match over the weekend (between Suriname and Guyana). (Suriname) are looking very sharp but I must admit that we have a bunch of fellows who are every elite players," Jones said. As for the chemistry in the team ahead of Saturday's match, Coach Jones believes the overseas player and local-based players are jelling quite well as usual. "The players ae no stranger…even though it's overseas based and local based players coming together, the guys play together over the last four year," he said.
Meanwhile, team captain Thrizen Leader also expressed confidence that team will succeed. "The team is fully confident going into Suriname. We have been training together as a team for the past month…we just have to stick to the coach's plan. It will not be an easy game but once we go out there and do the job we will get the victory that we want," Leader said. The match will begin at 6:30pm at the Andre Kamperveen Stadium in Suriname's capital Paramaribo.
—END—
Disclaimer
*This article was posted in its entirety as received by SKN PULSE. This media house does not correct any spelling or grammatical errors within press releases and (or) commentaries. The views contained within are not necessarily those of SKN PULSE.