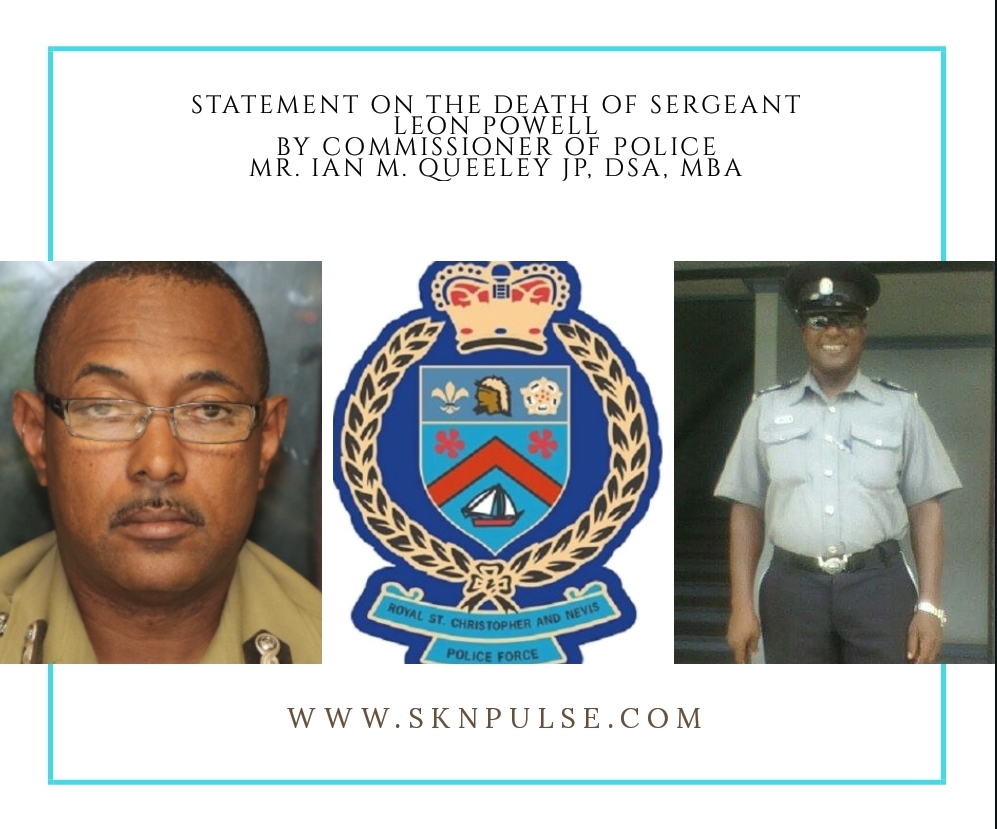 On behalf of the High Command, Gazetted Officers rank and file of the Royal St. Christopher and Nevis Police Force, I would like to express my deepest condolences to the family and friends of the late Sergeant Leon Powell, the rank and file of the Royal St. Christopher and Nevis Police Force and, in particular, to his brothers Constables Kevin Powell and Damien Dasent.

The news of his death stirred mixed emotions within me and I know it is the same with the men and women of the Police Force. I am deeply saddened and totally outraged as we mourn the loss of a very loyal and committed Police Officer. At the time of his death, he was the Subordinate Police Officer in charge of the Stapleton Police District. Sergeant Powell would have given more than half of his life in service to this Federation, to ensure a safe and secure environment for all to enjoy.
As a result the incident, an emergency meeting was held with Senior Officers of the force to brief them on the progress of the investigation so far. Also present in that meeting was Retired Senior Superintendent Colin Pinnock, a consultant out of Jamaica, who is currently providing support to the Crime Directorate. Additionally, another meeting was held and the High Command met with all ranks of the Force on Saturday (August 18) afternoon in St. Kitts and on Sunday (August 19), the High Command will travel to Nevis to have a similar engagement there.
I have already met with members of Sergeant Powell's family and a full range of support will be made available to them and his close friends, as well as the members of the force with regards to counselling and emotional support. Especially on the heels of Sergeant Dwight Davis death, it is even more important that we utilize the support services now as many of us are still going through the healing process. I, therefore, want to encourage his family and every Police Officer to make good use of the service and to be strong.
Sergeant Powell did not give up easily. He fought like the brave Police Officer he was known to be. It was said by Chris Cosgriff, Founder of the Officer Down Memorial Page or ODMP that, and I quote, "When a Police Officer is killed, it's not an agency that loses an Officer, it's the entire nation". And, so I say today that the entire nation is mourning this loss.
These cowards for their own selfish gain and greed have senselessly cut him down in the prime of his life, by brutally killing him. I say openly to the perpetrators of this most heinous crime, that you will find no comfort. I give my commitment here and now that we will hunt you down and flush you out from wherever you are hiding and bring you to justice. I consider this to be an attack on the entire organization and, by extension, the State, and as such we will respond in an appropriate manner.

For our country, crime is unacceptable, and such violent acts against the Police, the guardians of this nation, are totally unacceptable. The men and women who have taken the oath to serve this country and knowingly put their lives on the line every day to protect others are held in the highest regard. I have said it before and I will say it again. No acts of violence against them will be tolerated. All hands are currently on deck and several teams have worked through the night in an attempt to gather as much information as possible and the work will continue until this case is solved. No effort will be spared in this matter and we will leverage all the resources available at our disposal to ensure that justice is served.
As we saw in the Sergeant Davis case, the public's assistance in solving these matters go a long way. This matter was resolved speedily and the perpetrator is now before the court awaiting his fate. It is important to underscore the critical role of the public to solving criminal cases. I am urging you to come forward with every bit of information no matter how little or insignificant it may seem. Tell us whatever you know. It is also important to stress that the public must also condemn this kind of criminal activity loudly and openly in every forum and not just when it's convenient to do so. Of all law enforcement agencies, the Police is the only one that has to respond to reports 24 hours a day. We are on patrol day and night in your communities. As an integral part of our society, you must all show outrage when this kind of behavior occurs. The public must also be able to show that they stand with us during critical times.
I would like to also request that persons be sensitive to the needs of his family in this their most difficult hour as they grieve the loss of their loved one.
Once again, the High Command, other Gazetted Officers and the rank and file of the Royal St. Christopher and Nevis Police Force offer our deepest condolences to the family and friends of the late Sergeant Leon Powell.
Rest in eternal peace my brother and may your soul rise in glory.
Thank you.