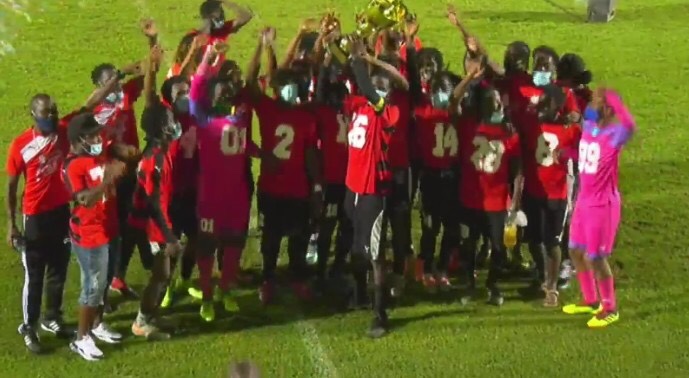 By: Andre Huie
S.L. Horsfords St. Pauls United are the 2020 FA Cup Champions after they defeated St. Peters F.C. 2-0 on Wednesday under rainy skies at the Warner Park Football stadium. Tahir Jefferson got the goal scoring off in the 7th minute and Donroy Liburd doubled the lead close to half time in the 42nd minute. Despite St. Peters' best efforts in the second half, they still could not find a goal, and St. Pauls celebrated into the night. The match was broadcast live in a SKN Newsline/SKNFA Pay Per View broadcast.
After the match Coach Iroy Cunga Jeffers expressed elation at the win and spoke about what winning this championship mean for the St. Pauls community. "This I have been waiting for a long, long time for the community and the players," Coach Jeffers said. "We have to give thanks for the championship as we move forward towards the (Super Six Playoffs)," Jeffers said. Coach Anthony Nets Isaac of St. Peters in the aftermath of this defeat said their focus now is to qualify for the Premier League playoffs. "Our aim now is to try to get into the (Super) Six. Once we win, it should guarantee us a place into the six," he said. "What went wrong today? In the first half we didn't execute the plans that we set out to do. But in the second half we came…the fellows went out and execute very well," Coach Isaac said.
So with the FA Cup now in the books, fans will turn their attention back to the SKNFA Premier League which continues this Friday with two crucial matches. At 6pm league leaders Rams Village Superstars will play upstarts KFC United Old Road Jets who are dark horses for playoff qualification. At 8pm Flow 4G Cayon Rockets will face the embattled Hobson Enterprises Garden Hotspurs who are fighting for a playoff spot in the inaugural Super Six Playoffs. The playoffs are due to start on November 24th.
—END—
This article was posted in its entirety as received by SKN PULSE. This media house does not correct any spelling or grammatical errors within press releases and or commentaries. The views contained within are not necessarily those of SKN PULSE.