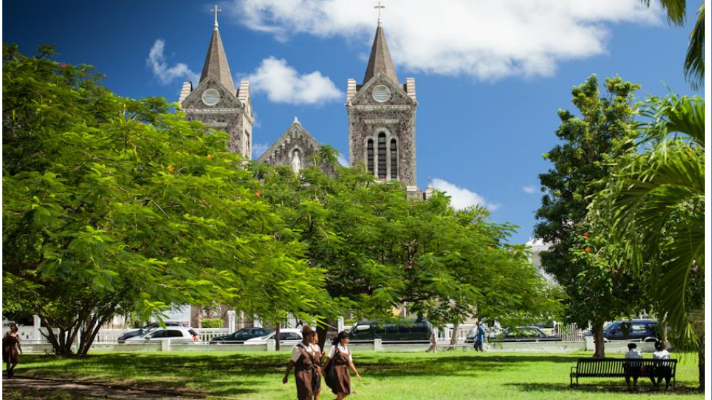 BASSETERRE (27TH September, 2019): Today is World Tourism Day! Celebrated every year on this date by the United Nations World Tourism Organization (UNWTO) since 1980.
Minister of Tourism, The Hon. Lindsay F.P. Grant is using the occasion to reiterate that the tourism sector is vitally important to our country; insisting that Tourism is everyone's business.
"World Tourism Day raise's the awareness of the role of Tourism globally and focus's our collective attention that leisure travel has a major social, cultural, political and economic effect on all of our lives," Minister Grant said. "In the Federation, Tourism is a vital contributor to the livelihoods of thousands of our citizens and residents. The multiplier effect from Tourism, related to expenditure, impacts production in other sectors of our economy – such as agriculture, local fisheries, handicrafts, entertainment, real estate, creative design, engineering, and construction. Tourism has therefore become important to all of us in some form or fashion."
In 2018, it was "Tourism and the Digital Transformation". The theme for this year is "Tourism and Jobs — A Better Future For All".
The UNWTO has found that one job in the sector creates about one-and-a-half additional direct or indirect jobs in tourism-related economies. Data further reveal that of 10 jobs generated in the world, one is from the tourism sector.
According to the United Nations (UN), "Tourism's role in job creation is often undervalued, and hence, new policies are needed to maximize tourism's potential to create more and better jobs, especially for women and youth, reflect and incorporate ongoing advances in technology, and to address the current mismatch between tourism skills that are taught and those that tourism employers need."
To this end the Federal Ministry of Tourism and the St. Kitts Tourism Authority continue to work with all partners and stakeholder to make Tourism a sustainable sector by incorporating local communities, thereby alleviating poverty and also sensitizing them to their role in safeguarding the natural environment, as a resource for sustainable and responsible tourism development.
Every year, the day is hosted by a certain country. This year for the first time, India will host World Tourism Day in its national capital, New Delhi. World Tourism Day is also celebrated because the more individuals travel, the more they get to appreciate the vast range of tourism choices. Countries are diverse in their land, people, cuisine, tribes, faiths, music, dance forms, arts, adventure, crafts, sport, history and spirituality. Moreover, Tourism offers avenues for advancing the message of tolerance, harmony, mutual respect and peace; the cornerstones for sustainable human progress and development.
Minister Grant, along with his team at the Ministry of Tourism and the St. Kitts Tourism Authority embrace this opportunity to recognize all of our stakeholders generally who contribute to the exponential growth and phenomenal success we continue to realise in our local Tourism industry.
HAPPY WORLD TOURISM DAY TO ALL!!!