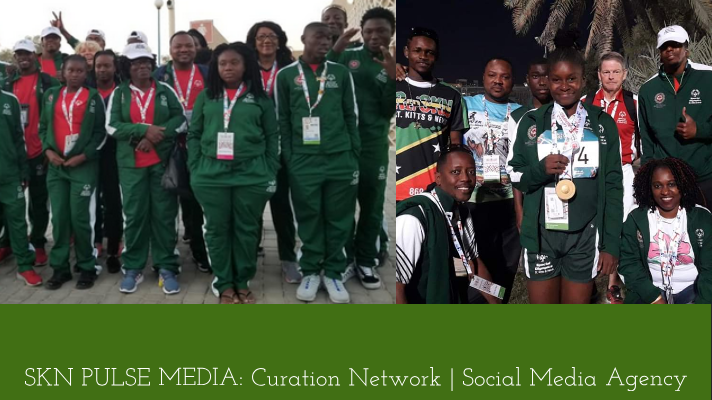 Photo Caption: Snaps of team St. Kitts and Nevis, Original Photo Credit-Special Olympics- Collage: SKN PULSE CREATIVES

By: Tito Chapman
Abu Dhabi: St. Kitts and Nevis' ambassadors at the Special Olympics performed incredibly well. On their final day of competition, cyclist Shane Nisbett placed fourth in the road race while Bocce players Lawvander and Krislyn won the Federation's 8th gold medal in Doubles.
Team SKN participated in seven (7) sporting disciplines. Namely, Tennis, Bocce Singles, Bocce Doubles, Athletics, Open Water Swim, Free-Style Swimming and Cycling.
Tanique Richards captured the first gold medal for the team in the 200m. Tanique completed the sprint Double as she also won the 100m.
The team's individual performances is as follows:
Athletics:
Tanique Richards
Gold – 200 metres female
Gold _ 100 metres sprint
Tyrique Morton
Bronze in 400 metre race
4th place in 800 metres
Roshawn Daniel
Gold in 400 Metres
Bronze in 200 Metres
Open Water Swim
Lemuel Hobson
Silver in 1600 M (1mile) race

Roger Crawford
4th place in 1600 M (1mile) race
Swimming (pool)
Lemuel Hobson
Gold in 800 Metre freestyle 21:29
Roger Crawford
4th in 800 metre freestyle 17:12
Bocce singles
Krislyn Warner
Bronze in singles bocce
Lawvander Forbes
Bronze in singles
Bocce Doubles:
Krislyn Warner and Lawvaner Forbes
Gold in doubles
Cycling
Jamor Merchant
Gold in 5K timed trials
6th place in 25K Road race
Robert Liddie
Gold in 10K timed trials
Shane Nisbett
Silver in 10K timed trials
4th place in 40K Road race
Ashton Mills
4th place in 10K timed trials
Tennis
Shakir Stapleton
Gold in singles competition
The Special Olympics celebrates all athletes with intellectual disabilities (ID), regardless of their level of ability.
It ensures good competition through a process called "divisioning," which segments athletes based on abilities rather than on disabilities. This way, athletes can compete with other athletes of similar abilities and age.