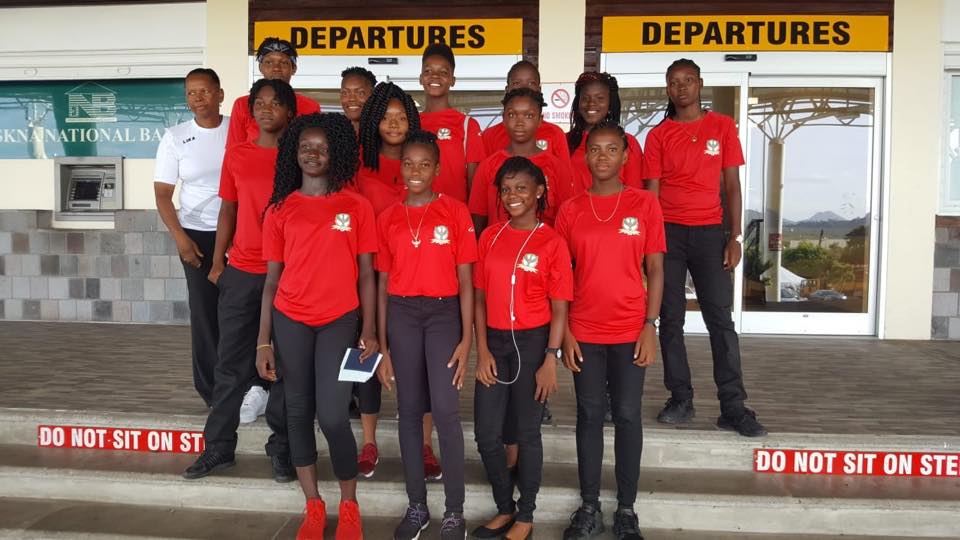 PRESS RELEASE
St. Kitts and Nevis will be participating in the 2018 Concacaf Girls' Under-15 Championship that will be held from August 6-13 at the IMG Academy in Bradenton, Florida. Coach Jeffrey 'Pedro Hazel' said the team has been preparing well and he expects good things from them when they travel to Florida this weekend. "The girls have been preparing for some time now.
From last year they would have started when we played some Under-13 matches. We would have put the squad together at that point and so they would have been practicing together at that point," he said. Hazel disclosed that while in Barbados to secure their visas, they had the chance to play their Barbados counterpart and won that match 4-2. "That is a positive sign for us," he said.
Coach Hazel expressed positive sentiments about the direction of women's football and believes this crop of young female players have the capacity to reach the heights of the St. Kitts and Nevis Senior Women's Team.
"We're happy with the development so far. Of course there can be some improvements. These girls would want to be successful as our senior women's team would have done recently. We have one of the girls in our Under-15 who was a part of the Senior Women's (team) so she has an idea of what the success level was there and would want to transmit it to our girls," Coach Hazel said. "She is the captain of the U-15 team. It hasn't been announced to her as yet but we have been sending a group of them to leadership classes and she is one of the persons we have identified to lead our team. We still have some work to do with our women's football program. But of course it takes an entire partnership, relationship with government, the clubs with sponsors," he added.
Meanwhile, Coach Hazel gave some insight into what he expects from his team this weekend. "We play some very competitive teams. We play Belize, Martinique, US Virgin Islands. Although we want to win, we are looking at the development process of the girls because the target is mostly to qualify for the U-15 World Cup for 2019," he said.
This year's girls' under-15, will be the largest Concacaf tournament ever for female participants and will feature the participation of a record amount of Concacaf Member Associations and two invited teams from UEFA.
The St. Kitts Nevis team comprises:
Chailyn Rawlins
Zonia Marshall
Angelena Browne
Beyonce Hobson
Kayla Uddenberg
Khalia Joseph
Ellie Stokes
Solleessh Rawlins
Jasonna Williams
Trishanie Warner
Glenecia Battice
Drucilla Thomas
Javisha Bowry
Jahzara Claxton
Shania Rogers
Shania Henry
Jashelle Weekes
Trisha Nisbett
Technical Staff
Tonya Lawrence – Head of Delegation
Juliana Sargeant – Team Manager
Jeffrey Hazel – Coach
Judith Gumbs – Head Coach
Shandor Wilikinson – Assistant Coach
Masefield Nisbett – Trainer
Varsha Hull – Medical Person
Kyra Dickenson – Goalkeeper Coach
Disclaimer