Basseterre, Saint Kitts and Nevis, May 12th 2023 (RIDU)– The governments of the Federation of Saint Kitts and Nevis and the Republic of Guatemala signed a historic agreement for diplomatic cooperation on Wednesday, May 10, 2023 in the margins of the IX Summit of Head of the Association of Caribbean States in the city of Antigua, Guatemala.
This agreement is result of months of dialogue and negotiations between the Foreign Ministries of both countries, following bilateral discussions between Saint Kitts and Nevis' Foreign Minister, Dr. Denzil Douglas and his Guatemalan counterpart, Mr. Mario Búcaro Flores in Argentina, in January, 2023.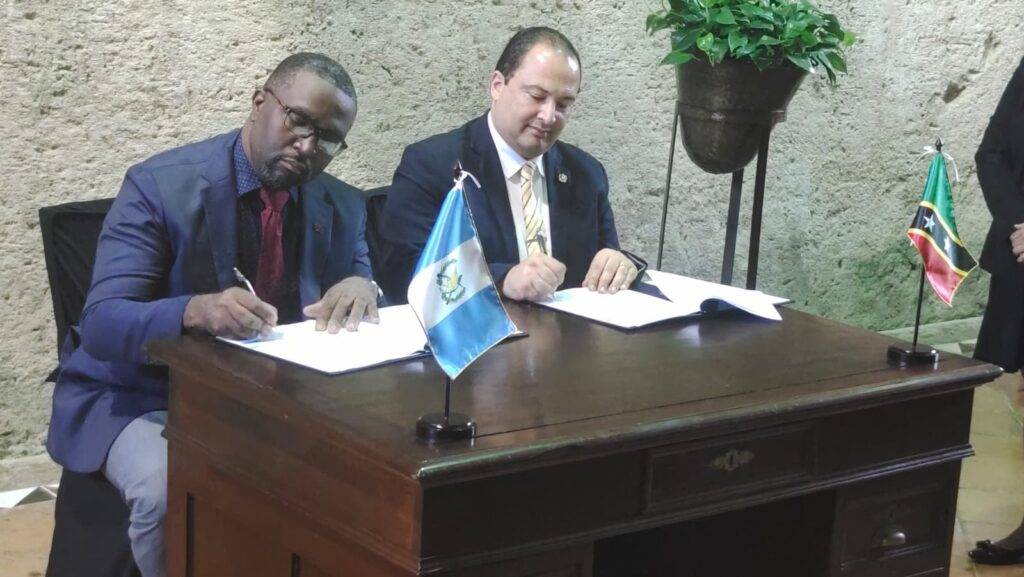 The agreement promotes mutual understanding and cooperation between the countries with a focus on developing and strengthening diplomatic relations based on openness, mutual respect, the common good, and the principle of sovereign equality.
The agreement allows for regular consultations and exchange of ideas on relations between the two countries as well as on international matters of common interest and mutual benefit. This would include direct contact between members of their diplomatic services and regular face-to-face or virtual consultation sessions between the foreign ministries.
Wednesday's historic agreement was signed by Saint Kitts and Nevis' Ambassador to the Association of Caribbean States (ACS), Mr. Larry Vaughan and Guatemala's Minister of Foreign Affairs, Mr. Mario Búcaro Flores. Ambassador Vaughan stated that this agreement is significant to the government and people of Saint Kitts and Nevis in the pursuit of opportunities for capacity building and trade enhancement.
###