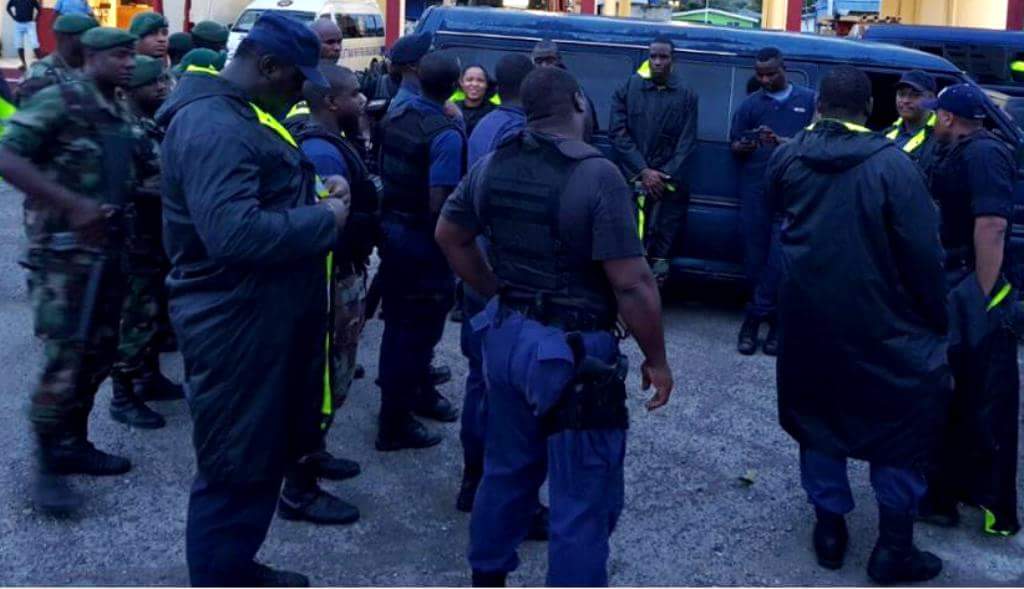 Photo: Members of the Tactical Unit having a briefing with Soldiers of the St. Kitts and Nevis Defence Force prior to going on an operation.

Basseterre, St. Kitts, September 30, 2018 (RSCNPF): Tactical Commander, Superintendent Adolph Adams, is reassuring the public that his team is committed to ridding communities around the Federation of drugs, firearms and ammunition.
The Tactical Unit has been instrumental in the discovery and interdiction of drugs, firearms and ammunition during several operations. Their efforts, along with the efforts of other units and agencies, have led to some 33 weapons being taken into Police custody, including an unbelievable find of the largest ammunition and second largest firearm bust in the history of the federation.
"There are too many guns on our streets and in our communities. The recent spate of shootings and the efforts of my officers in the recovery of six (6) illegal firearms and over 250 rounds of ammunition in just one day, proves that," Superintendent Adams said.
Not only is there a high level of planning and intelligence-gathering that goes into these operations, but the men and women of the unit are putting their lives at risk with every operation they execute.

"Being a part of a tactical operation, especially one that involves firearms and ammunition, and not knowing whether you are going to be fired upon, not knowing whether you will be seriously injured or even make it back alive is mentally stressful on the officers. However, officers of the tactical unit are called out almost daily to deal with situations like these – putting our lives and the livelihood of our families at risk – in an effort to make our streets and communities safer," Superintendent Adams added. "The commitment, fearlessness and dedication of officers of the Tactical Unit towards national safety and security should be commended and viewed no less than an officer who puts his life at risk in Iraq or elsewhere."
With special training for such undertakings, the unit continues to seek out drugs, firearms and ammunition in their quest to ensure a safer St. Kitts and Nevis.
"Society, through the security forces, must, in the short term, aggressively and powerfully repel this attack and root out its perpetrators with all the lawful force required. Crime has changed and has become even more violent and, as a result, requires this type of response. As tactical commander, I would like to see our response mechanism and crime fighting capabilities improve even further to better bring this scourge under control and to a manageable level immediately," he said.
But while he acknowledged that there was more work to be done, he recognised the progress made through the hard work and efforts of the unit.
"I would also like to take this opportunity to thank the men and women of the tactical unit for their support and dedication to law enforcement which they have proudly displayed over the years. I would like to encourage them to always put God first as we undertake this difficult and unthankful job of being a police officer and to always remember to thank him for his mercies and spared lives as we face our many dangerous tasks and come out successful."