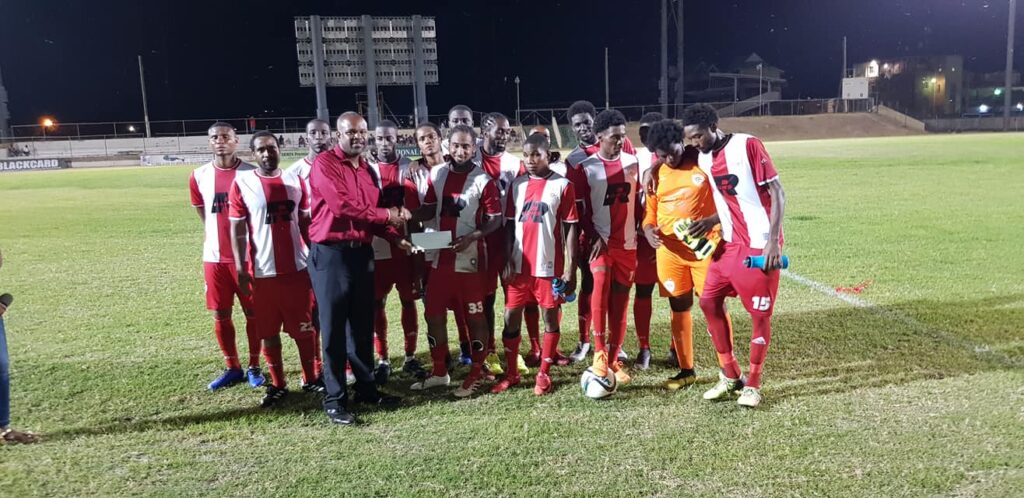 By: Contributor
The Rams Village Superstars started their Caribbean Club Shield journey with a win over Hoppers FC out of Antigua. The game was played at
Ergilio Hato Stadium, Curacao.
Village led early 1-0, in the 24th minute, Diquan Johnson scored. However, in the 40th minute Hoppers scored an equalizer to level the scores. Not to be out-done, Village went ahead in the second half after Kimaree Rogers found the back of the net in the 56th minute. At the final whistle, Rams Village Superstars were victorious, 2 goals to 1.
Live coverage of the game was made possible by MP Konris Maynard via his social media handle. Maynard is presently in Curacao supporting the team.
The Caribbean qualifying tournament which features 13 clubs from 13 Caribbean Member Associations commenced yesterday, Friday 5 April with games scheduled at the Ergilio Hato Stadium and Dr. Antoine Maduro Stadium, in Willemstad, Curacao.
The 13 participating club are: Dakota FC (ARU), Hoppers FC (ATG), SV Real Rincon (BOE), Weymouth Wales (BRB), Scholars International Sports Club (CAY), Santiago de Cuba (CUB), Jong Holland (CUW), Club Sportif Moulien (GLP), Fruta Conquerors Football (GUY), Platinum Football Club (LCA), Club Franciscain (MTQ), Rams Village Superstars (SKN) and SV Robinhood.
Rams Village Superstars are grouped with Platinum Football Club out of St. Lucia and Green Bay Hoppers out of Antigua.
Following the round-robin play, each group winners and runner-up will advance to the quarterfinals. The quarterfinal winners will automatically qualify to the semifinals. The two finalists will dispute the title on Monday, April 15, 2019.
The winner of the 2019 Concacaf Caribbean Shield, provided said team fulfills the Concacaf Regional Club Licensing criteria, will have the opportunity to face the fourth-place finisher of the 2019 Flow Concacaf Caribbean Club Championship in a playoff match to determine the fourth Caribbean representative in the 2019 Scotiabank Concacaf League.
Village faces off against Platinum FC on Sunday 7th.