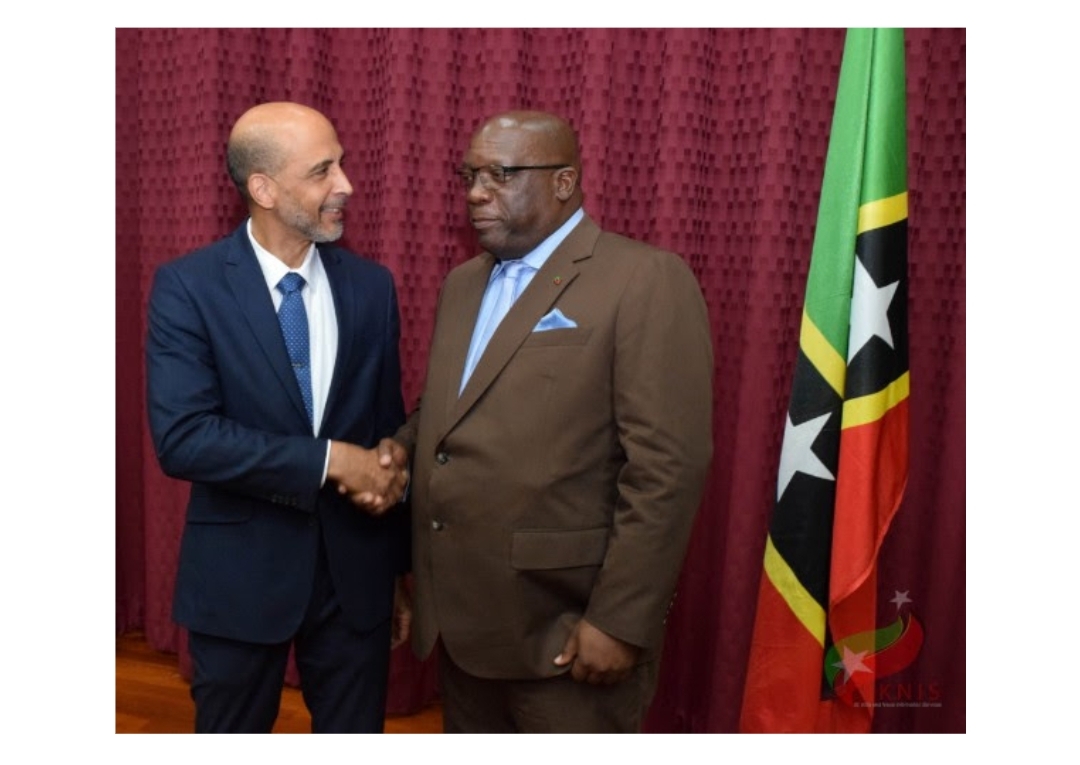 QC Gonsalves (left) greets Prime Minister of St. Kitts and Nevis, Dr. the Honourable Timothy Harris (right)

Basseterre, St. Kitts, September 13, 2018 (SKNIS): Renowned local Attorney, Anthony E. Gonsalves QC, encouraged an all hands on deck approach to enhancing the quality of life for citizens and residents in St. Kitts and Nevis during his presentation at the Annual Prime Minister's Independence Lecture Series at the Sir Cecil Jacobs Auditorium, Eastern Caribbean Central Bank (ECCB) on Wednesday, September 12.
The legal luminary was at the time reflecting on the theme for St. Kitts and Nevis' 35th Anniversary of Independence, which is "Love, Service, Patriotism and Pride: Independence 35".
"A theme or a mantra without action and implementation means nothing. In seeking to appreciate the actions necessary by each of us in applying the theme, we need to first recognize that our Federation's continued development is dependent on the individual efforts exerted by each and every one of us," said Attorney Gonsalves. "In this symbiotic relationship between personalities that we call a nation, each of us plays a significant role in contributing to our nation's success."
He said that one's role in society is not only determined by one's achievements but by one's overall contribution to the common good which is of greater importance.
"The contribution of each and every individual regardless of his level of education, social standing, or the size of his bank account is vital to the success of our nation and it is important that we recognize this," said Mr. Gonsalves, noting that each and every one must be treated with a level of importance. "We need to ensure that we bring home to each and every citizen the valuable role he or she plays in our country's success by the work he or she performs, no matter how small it may seem in the grand scheme of things."
Attorney Gonsalves noted that in order to accomplish such a task it is important to ensure that all persons are afforded proper compensation, security, dignity and respect in whatever job they perform.
"…we need to inspire our citizens to strive for excellence in all that they do. Small tasks or relatively simple tasks are not by definition insignificant tasks. And regardless of the task, in St. Kitts and Nevis there are no insignificant people," he said. "And in striving for excellence, our true aim should not be to ensure that we do better than others. Our true aim should be to set appropriate targets and to do our very best to achieve those targets."
The attorney said that in the context of the Federation's Independence celebrations, the theme must translate into "Love for country, Service to country, Patriotism and Pride in our country." He added that the foundation for the theme can be found in St. Kitts and Nevis' motto: "Country Above Self."
The Federation of St. Kitts and Nevis celebrates its Independence on Wednesday, September 19, 2018.
-30-