Basseterre, St. Kitts, June 06, 2023 (SKNIS):Azariah Eddy is the beneficiary of the Horsfords' Project Viola Teen Mothers Educational Scholarship Initiative that provides financial support to Project Viola students pursuing tertiary education.
The initiative was highlighted during a ceremony on Tuesday, June 06, 2023, at the Conference Room of the Ministry of Youth Empowerment, Ageing and Disabilities. The annual commitment of $4,400 from S. L. Horsfords Co. Ltd. was highlighted by the company's Supervisor and Marketing Consultant Adelia Browne-Lewis.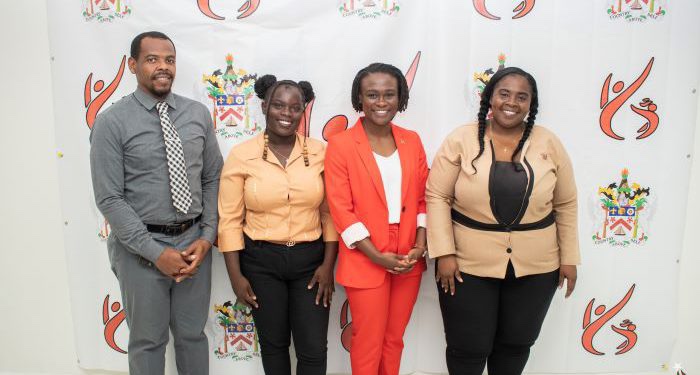 "The financial support offered covers students' uniforms and books not covered by the SELF programme, registration fees and lunch and transportation allowances. In addition, participants are provided temporary job assignments during the school break, and several students have taken advantage of the advice and mentoring programmes of the management and senior personnel," Ms. Browne-Lewis stated. "Horsfords is proud of its rich history in partnership of nation building and pledges towards a continuation to execute corporate responsibility in the years ahead."
Minister of State responsible for Social Development and Gender Affairs, the Honourable Isalean Phillip, thanked S. L. Horsfords Co. Ltd. for its contribution to the Project Viola initiative noting that the type of support the ministry receives from non-governmental, private partners can benefit persons who need it most.
"We are really appreciative of any kind of partnership and support that really helps to support our teen mothers," the Honourable Phillip stated. "I hope that [upon] seeing the impact this scholarship can have on (Ms. Eddy) that Horsfords would in the future say, 'Oh we want to give you more' because more is always welcome," the minister added.
Minister Phillip also expressed appreciation to the ministry's staff for working with the teen mothers in Project Viola over the years. This support has led to many teen mothers completing their mainstream education and leading successful careers in healthcare, education, culinary arts, accounting, law, banking, fraud, banking, and more.
Project Viola was established by the Department of Gender Affairs (St. Kitts) following a policy decision of the St. Kitts and Nevis Federal Cabinet in 1997 that reiterated the right of teenage mothers to complete their mainstream education.
-30-