NIA CHARLESTOWN NEVIS (June 12, 2023) – Premier of Nevis, Hon. Mark Brantley, is imploring increased vigilance among the rank and file of the Royal St. Christopher and Nevis Police Force (RSCNPF), District C (Nevis) as the Federation, more specifically St. Kitts, grapples with a marked uptick in gun violence.
Premier Brantley recently engaged with the leadership of the Police Force in the Nevis Division for wide ranging discussions on strategies and responses to crime on Nevis and in the wider Federation. Present at the meeting were Police Inspectors Alonzo Carty, James Stephens, and Reynold Myers, along with Mr. Wakely Daniel, Permanent Secretary in the Premier's Ministry.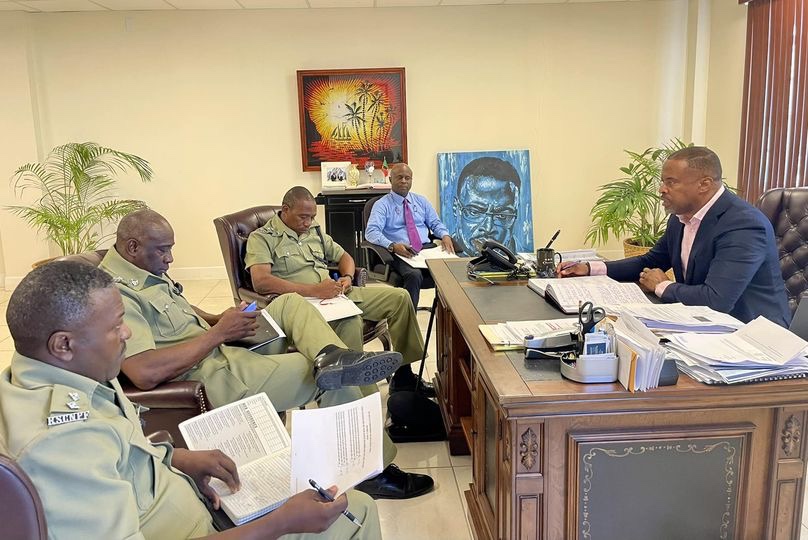 "I have every confidence that the police in Nevis continue to do excellent work in keeping us safe and I commended them for the work that they and their officers continue to undertake on behalf of us all. The meeting with the High Command in Nevis was timely to update the Nevis Island Administration (NIA) on strategies being put in place to deter and detect criminal activities."
The Premier also reiterated his appeal to the general public to do their part in the crime-fighting efforts on the island and wider Federation.
"Crime affects all of us and we therefore need an all-of-society response. I call on all of our people to assist the police to ensure that we eradicate this scourge from our midst. I therefore continue to call on all residents to be vigilant and to cooperate fully with the police to deal decisively with crime."
He has publicly commended the RSCNPF for their quick work arresting and formally charging persons for the two most recent homicides on St. Kitts.
The Honourable Premier has assured that the Nevis Island Administration fully supports the crime reduction measures recently announced by Prime Minister of St. Kitts and Nevis, Hon. Dr. Terrance Drew, Minister of National Security in the government of St. Kitts and Nevis. The measures being implemented by the security forces include increased security presence in communities through various methods, further engagement of regional and international security experts to work along with local forces, strengthening of the intelligence capabilities of the security forces, and enhancement of evidence gathering capabilities to ensure that perpetrators are brought to justice.
END