ST. JOHNS, Antigua – Cricket West Indies (CWI) has announced the match schedule and venues for the highly anticipated West Indies versus India Men's Series in July and August.
The Series starts with two Test matches as part of the 2023-2025 ICC World Test Championship. Windsor Park in Dominica will host the first Test match from 12-16 July. The second Test match, to be played from 20-24 July at Queen's Park Oval in Trinidad, will be historic marking the 100th Test match played between the two teams.
The Test Series is followed by three CG United One-Day Internationals (ODIs) and five T20 Internationals (T20Is). The CG United ODI Series will start at Kensington Oval in Barbados with the first and second matches on 27 and 29 July. The CG United ODI Series concludes on 1 August at the Brian Lara Cricket Academy in Trinidad which will be hosting a West Indies Men's ODI for the first time.
The T20Is also bowl off at Brian Lara Cricket Academy on 3 August. Guyana hosts the second and third T20Is at the Guyana National Stadium on 6 and 8 August. The T20I Series concludes in Lauderhill, Florida with a blockbuster weekend of back-to-back matches on Saturday 12 August and Sunday 13 August at Broward County Cricket Stadium.
Johnny Grave, CEO of CWI, said:
"We are delighted to be able to confirm the schedule and venues for the highly anticipated visit by India. One of the highlights will be the 100th Test at the Queen's Park Oval and this promises to be a fantastic occasion as we celebrate this historic event between these two proud cricketing nations."
Grave added: "We also look forward to hosting India in the white ball fixtures and welcoming fans to attend the matches across the region, as well as in the United States. It will be 18 days of entertainment for cricket lovers to enjoy and savour."
Official West Indies Tour Operator packages, including match tickets will be announced first. The Windies Tickets service, presented by Mastercard, available through the Windiescricket.com website, will launch ticket sales by Tuesday 20 June. Fans can sign up to receive the first news of tickets going on sale at https://www.windiescricket.com/updates.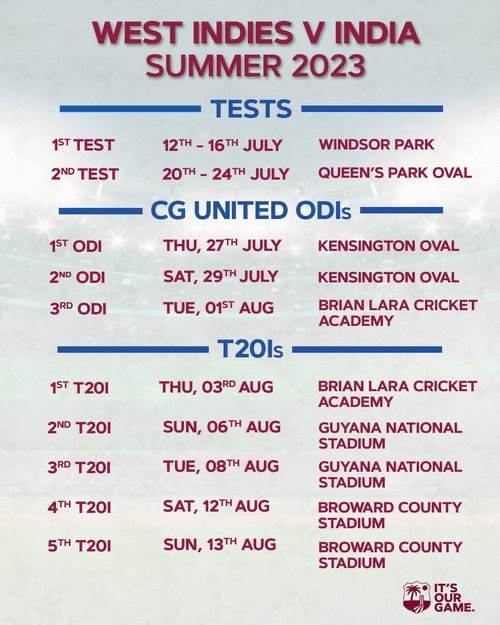 MATCH SCHEDULE
India tour of West Indies 2023
Test Matches
12-16 July: 1st Test Match, Windsor Park, Dominica
20-24 July: 2nd Test Match, Queen's Park Oval, Trinidad
* Local start time: 10h00 (09h00 Jamaica time)
CG United ODIs
27 July: 1st CG United ODI, Kensington Oval, Barbados
29 July: 2nd CG United ODI, Kensington Oval, Barbados
1 August: 3rd CG United ODI, Brian Lara Cricket Academy, Trinidad
* Local start time: 09h30 (08h30 Jamaica time)
T20 Internationals
3 August: 1st T20I, Brian Lara Cricket Academy, Trinidad
6 August: 2nd T20I, National Stadium, Guyana
8 August: 3rd T20I, National Stadium Guyana
12 August: 4th T20I, Broward County Stadium, Lauderhill, Florida
13 August: 5th T20I, Broward County Stadium, Lauderhill, Florida
* Local start time: 10h30 (09h30 Jamaica time)
Related Series