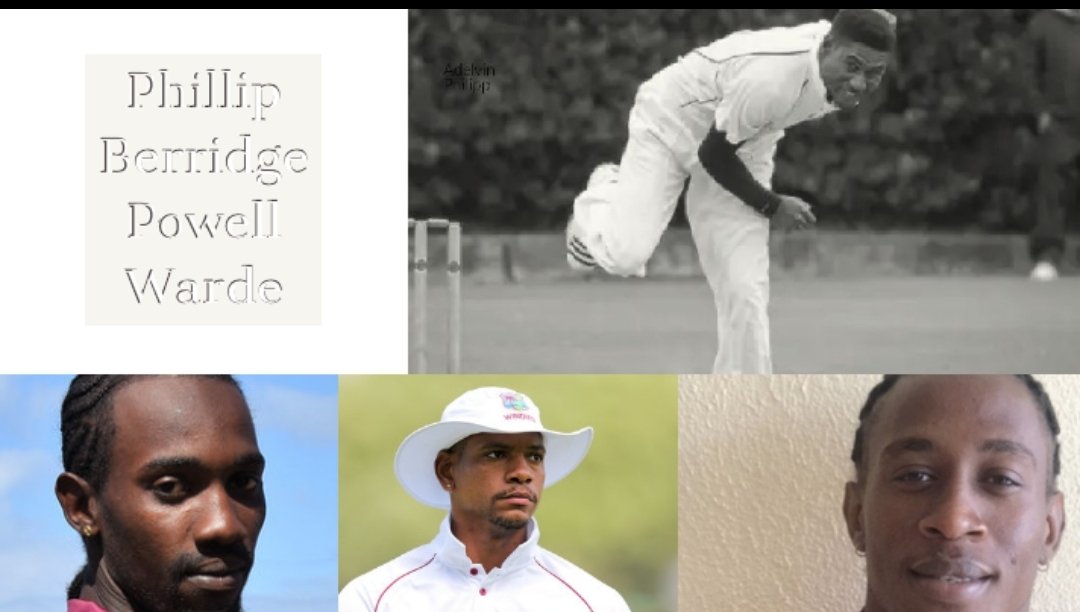 Photo Collage of SKN Cricketers Selected for 2019 Draft
By: T. Chapman
Four St. Kitts and Nevis Players are included in Leeward Islands Super50 squad. Berridge, Powell and Warde will now be joined by all-rounder Adelvin Phillip.
The Leewards picking 4th in each round selected: Nino Henry, Amir Jangoo (Trinidad & Tobago) as out of Territory players. Jaison Peters, Adelvin Phillip and Terence Warde were also chosen during the draft.
The Player Draft which was held early yesterday morning was organised with the goal of achieving an equitable distribution of the available player talent in the West Indies Championship and Colonial Medical Insurance West Indies Super50 Cup.
As per the rules of the draft, each Franchise contracted a minimum of 15 players :
● 10 players pre-selected from their home territory or from the previous season's roster (also known as "protected players");
● 5 players drafted from the Player Pool with a minimum of two from outside the franchise's territory; and
● Each franchise can have one international player (i.e. non-eligible West Indian player) at its own cost
The six franchises participated in the Player Draft through a selection panel, the Leeward Islands were represented by Sylvester Joseph – Selector and Vernon Springer – Cricket Operations Manager.
The Player Draft was webcast through the WICB's website, www.windiescricket.com, and was conducted over five rounds. The Leewards full Squad is as follows:
Keiran Powell, Montcin Hodge, Devon Thomas, Jamar Hamilon, Rahkeem Cornwall, Keacy Carty, Jeremiah Louis, Sheeno Berridge, Damion Jacobs, Quinton Boatswain, Terance Warde, Amir Jangoo, Jaison Peters, Nino Henry, Adelvin Phillip