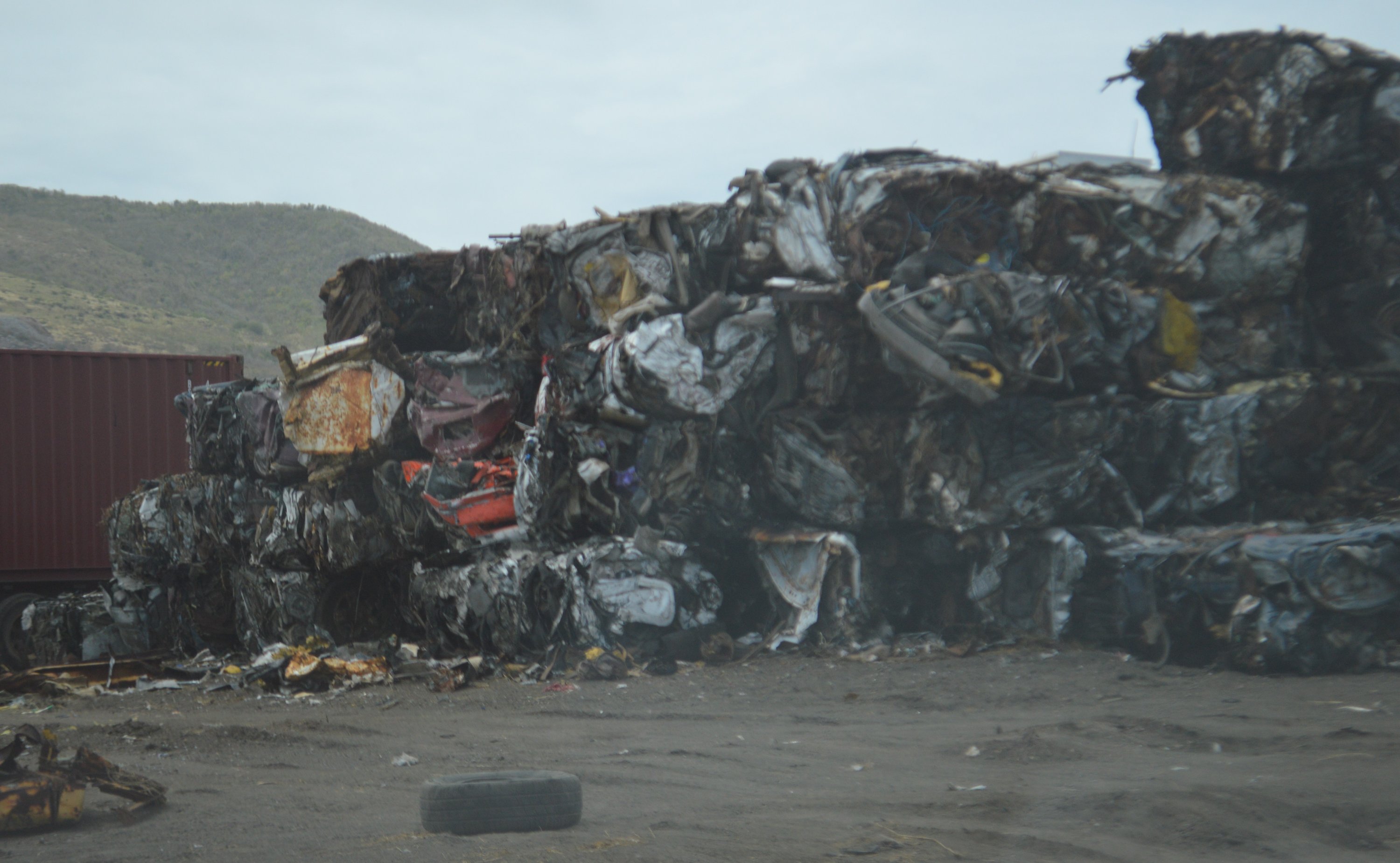 PRESS RELEASE

Over 1170 tonnes of scrap metal from derelict vehicles have been crushed and baled so far under a project by the Solid Waste Management Corporation (SWMC) and US company Enclave.
Manager of the sanitary landfill in Conaree Mr. Lexington Bedford, updated staff and management of the SWMC at a General Staff meeting recently on the state of the scrap metal processing project. "We had over 1170 tonnes so far and that is from the landfill itself. Today, we have moved the (scrap metals) from where they were located initially…so we can better accommodate the incoming (derelict) vehicles," Mr. Bedford said.
SWMC officials and the government lauded the efforts of Enclave at the start of the year, as they begun work in crushing scrap metal on the landfill. Enclave Resources established their equipment on a section on the landfill where they perform the crushing and logging processes of scrap metals and derelict vehicles. These scrap metals when baled, will be shipped off the island. Geof Folsom of Enclave Resources confirmed in January 2019 that the company has a five year contract to perform the scrap metal project.

Meanwhile, Mr. Bedford, in providing further updates on activities at the landfill, said the berm project had to be suspended due to lack of rain. He however spoke of another project which is gathering pace. "We have since installed, with the help of Sylvester (Wattley) and Yvonne (Browne. Both employees of the SWMC), some plumbing around the perimeter of the landfill so that it would serve …in case of fire, though we know that soil is primarily used on the landfill," he disclosed. "We have some signage that was being prepared for the landfill so when you go (to dump garbage) you know where to go, so that we don't have the confusion of persons dumping anywhere on the landfill," the manager explained.
In November of 2018, newly appointed General Manager of the SWMC Mr. Keithley Phillip at a general staff meeting told staffers of plans to improve the working conditions and experience at the landfill.
—END—
Caption: Some of the baled scrap metals on the landfill.
Disclaimer

*This article was posted in its entirety as received by SKN PULSE. This media house does not correct any spelling or grammatical errors within press releases and (or) commentaries. The views contained within are not necessarily those of SKN PULSE