NIA CHARLESTOWN NEVIS (May 10, 2023) —Nevis Tourism Authority's (NTA) Chief Executive Officer (CEO) Mr. Devon Liburd is urging Barbadians to come to the Nevis Mango Festival, three days of everything mango slated for June 30 to July 02, 2023.
The CEO accompanied by Mr. Phéon Jones, the NTA's Director of Sales and Marketing, issued the call when they on appeared May 09, 2023, on the Caribbean Broadcasting Corporation's (CBC) Mornin' Barbados, a magazine type television show.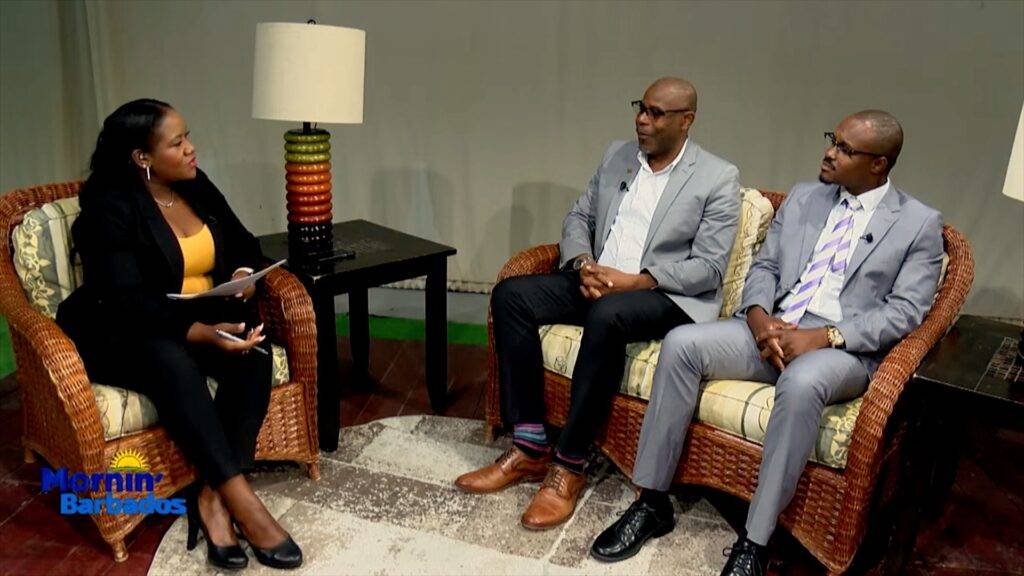 "One of our main mandates here is to encourage our Bajan family and friends to take a flight over to St. Kitts and Nevis, Nevis specific and come and visit us during the summer…
"It's a good opportunity to have some persons to cheer on the Bajan chefs at the mango festival so we want everybody out there to stay tuned for specific information when it becomes available so that you can begin to book your flights," he said.
In describing the Nevis Mango Festival, Mr. Liburd noted it is a celebration of all things mango.
"[It is] a celebration of the king of fruits – mangoes, and it's in its ninth year, and for a small place like Nevis we have over 44 varieties of mango… We introduced the mango festival to sort of encourage our Nevisian friends or Nevisian persons to come up with creative ways of using the mango, whether it's through various culinary meals and so forth or even using it for wellness," he explained.
Meantime, Mr. Jones gave an insight into the calendar of activities planned for this year's festival which includes the introduction of new events.
"On the Friday and this will be on the 30th of June we will have the opening. We will also have a Masterclass where lucky persons will be guided by a chef and they will cook a mango-inspired dish…
"On the same day, we would be having more of a culture day. It would be at the Indian Castle [Fruit Orchard] and this is where a lot of the students and persons on island are going to come and participate in various events. We're having a Mixologist Competition, we are having a Mango Eating Competition; and my personal favourite which is coming this year, we're going to have a Mango Stoning Competition… Basically, you are going to be able to stone the mango, and we all know, that the trick and the key is to stone the stem and not damage the fruit.
"On the Friday evening we are also having a Bar Crawl, so you are going to go to one of our popular spots. It's called Pinney's Beach and many of the restaurants are going to be serving mango inspired drinks," he said.
Mr. Jones added that on Saturday August 01, which he described as a laid-back day, would spotlight the mom-and-pop restaurants on the island and the activity slated for the night time.
"They are going to have a lot of mango-inspired dishes, and we are going to give you a map so you are able to go throughout Nevis and go to the various places and whoever goes to the most places will get something special from the Nevis Tourism Authority.
"On that Saturday night we are going to have an international chef in with a local chef for a dinner at Mount Nevis [Hotel]. At minimum it's going to be a three-course meal, mango-based once again, fun, music, lovely evening," The Director of Sales and Marketing stated.
On the final day of the three-day mango event, patrons will partake in the For the Love of Mango Festival.
"That festival usually starts around 12 and everything mango. We have the wellness centre; we have over 32 different chefs, different sample dishes, music, and the most interesting part about that day, we're having two of the winners from the past – In 2019 the winner was Nevis and 2022 the winner was Barbados," he said.
It was also disclosed that the winners from 2022 will be returning to Nevis to defend their title at this year's festival.
END